Lockheed Martin Offer LCS Warships World-wide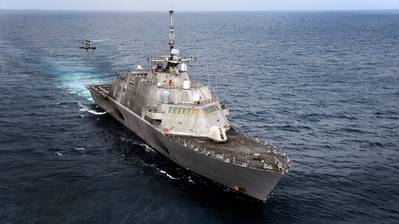 Leveraging on its USN Littoral Combat Ships (LCS) experience, Lockheed Martin offers a Multi-Mission Combatant for navies worldwide.

With two Littoral Combat Ships (LCS) currently in the U.S. Navy fleet, two more in production and two others under contract, Lockheed Martin is leveraging experience gained through the LCS program to offer a Multi-Mission Combatant for navies worldwide.

The Multi-Mission Combatant is an agile, modular vessel capable of speeds in excess of 40 knots. It provides the power of a larger platform with a smaller crew, similar to the core 40 sailors the U.S. Navy uses on its version of the ship. As a next generation surface combat warship for international navies, the ships can deliver maximum firepower to meet current and future operational requirements with lengths ranging from 85 to 118 meters and displacement ranging from 1,800 to 3,500 tons.

The ship's design is intended to be adapted for a variety of missions, including anti-air, mine countermeasures, anti-surface, anti-submarine and electronic warfare, with inherent capability for supporting counterterrorism activities, anti-piracy missions, special operations missions, maritime interdiction and humanitarian relief operations.

By leveraging the U.S. Navy's latest technologies, international navies can benefit from the ship's interoperable capabilities with systems like the common radio room and platforms such as Lockheed Martin's MH-60R helicopters and Remote Multi-Mission Vehicles.

"The resurgence of piracy, and threats to open trade and commerce, along with the need for nations to protect sovereign shorelines, requires a ship class capable of multitasking without compromising mission effectiveness in complex security environments," said Joe North, vice president of Littoral Ship Systems at Lockheed Martin's Mission Systems & Sensors business. "Our proven multi-mission design offers a formidable combatant with less cost, less risk and lower manning requirements, resulting in a ship that can be efficiently and affordably adapted for a variety of combat and humanitarian missions."