Wärtsilä Inks 10-year Maintenance Deal with Virgin Voyages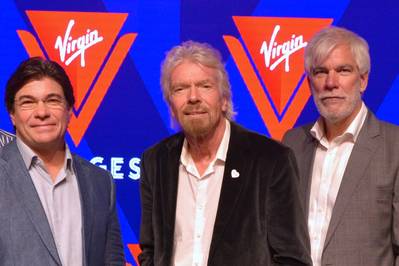 Cruise line Virgin Voyages has assigned Wärtsilä the responsibility of the maintenance of its three brand new cruise ships due to enter service in 2020, 2021 and 2022.
The comprehensive 10-year Optimized Maintenance Agreement, signed on April 30, 2018, gives extensive responsibility of maintenance to Wärtsilä, who will ensure that vessels are powered and operated reliably, efficiently and sustainably.
Wärtsilä's Dynamic Maintenance Planning allows maintenance operations to be carried out based on remotely monitored and analyzed real-time performance data. This makes it possible to extend service intervals when the equipment does not yet require maintenance. Overhauls can be scheduled to fit the operations of the vessel. Availability is thereby increased and unnecessary downtime minimized. The joint risk and reward scheme allows unique opportunities for both parties.
The extensive agreement includes Remote Operational Support Services, Specific Fuel Oil Consumption (SFOC) meters and calibration, spare parts and technical advisory services for the engines. In addition, Virgin Voyages will receive comprehensive technical support and personnel training.
"Our environmentally sound solutions and forward-looking, modern technologies will help to ensure the perfect cruise experience for Virgin Voyages' customers," said Sean Carey, Services Unit Director USA, Wärtsilä.
The three vessels forming the Virgin Voyages cruise fleet are being built by Italian shipbuilder Fincantieri and are due to begin operations in 2020, 2021 and 2022. All three will be equipped with Wärtsilä46F engines, Wärtsilä's Hybrid Scrubber System and Selective Catalytic Reduction (SCR) systems for exhaust gas cleaning, as well as Wärtsilä's Nacos Platinum navigation solution.
Virgin Voyages is a joint venture between Sir Richard Branson's Virgin Group and Bain Capital.
Stuart Hawkins, Senior Vice President of Marine & Technical Operations for Virgin Voyages, said, "At Virgin Voyages we're seeking to redefine how a holiday at sea looks and feels. Building a new approach to sea travel is a massive undertaking, and our unique agreement with Wärtsilä will help us ensure that our ships are operating efficiently and sustainably. Wärtsilä's outstanding reputation for a commitment to high-quality service and our shared values for environmental consciousness made them the ideal fit for a maintenance partner."