Wärtsilä Opens Hybrid Center in Trieste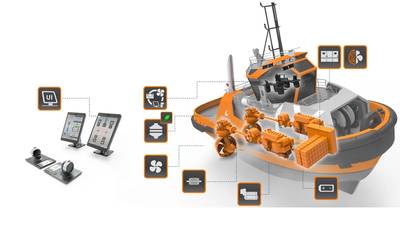 Wärtsilä has inaugurated its new Hybrid Center, a first-of-its-kind facility dedicated to enabling further development and deployment of the Wärtsilä HY hybrid power module. The new center, located in Trieste, Italy, will also be used to train crews and provide hands-on experience for technicians, while at the same time providing customers with the possibility to experience the benefits of the Wärtsilä HY.
The center houses an engine, batteries, power drives, a propeller load simulator utilizing an electric motor, a power take off/in motor generator, together with the overall energy management system, the 'brain' of the Wärtsilä HY. It will be capable of simulating operational data from the field, which will thus enable optimization of the hybrid system to reach unprecedented levels, Wärtsilä said.
According to Wärtsilä, the investment will, by providing owners and operators the chance to experience and familiarize themselves with the Wärtsilä HY, accelerate the introduction of hybrid technologies to the marine market. Successful testing has already been carried out on Wärtsilä's patented electric start-up procedure, utilizing the power from batteries to deliver a smokeless start of the main engine.
"Wärtsilä's Smart Marine approach to delivering greater efficiencies, improved safety, and enhanced sustainability is once again demonstrated with this innovative Hybrid Center. This unique concept clearly shows the commitment we have to leading the industry towards a cleaner and more cost-effective future," says Stefan Wiik, Vice President, Marine Power Solutions, Wärtsilä.
In addition to being used to validate hybrid technologies, the center will also welcome customer groups to learn in very practical terms the technical aspects of the Wärtsilä HY, as well as the value adding benefits it offers.
Additionally, the energy generated by the center will be fed to the factory grid to provide sustainable power to the company's production facilities.