100-year-old Ferry Sinks in Astoria, Ore.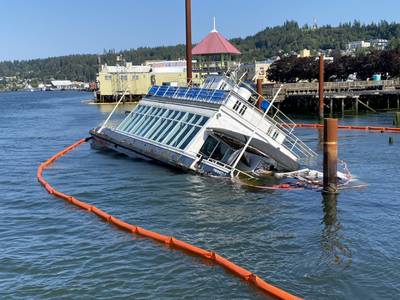 A 100-year-old, out-of-service passenger ferry Tourist No. 2 capsized in the Columbia River while moored near Astoria, Ore. on Thursday. There were no passengers on board.
The U.S. Coast Guard said it is responding and that an investigation into the cause of the sinking is underway.
A good Samaritan deployed a boom to contain an initial oil release and minimize potential impact to the environment, said Petty Officer 3rd Class Diolanda Caballero, 13th Coast Guard District External Affairs, who added no oil is being discharged currently.
Photos shared on social media show the vessel listing badly to its starboard side.
The amount of oil spilled and quantity still on board is unknown, Caballero said.
The Coast Guard opened the Oil Liability Trust Fund to hire Global Diving and Salvage to help assist in the cleanup effort, which is set to begin on Friday.
Built in 1924, the wood-hulled ferry Tourist No. 2 has carried passengers throughout the Pacific Northwest, and was even used by the U.S. Army during World War II.
The historic vessel, which is listed on the Washington Historic Register and the National Register of Historic Places, has undergone several refurbishments and a number of name and ownership changes throughout the years. It is currently owned by Christian Lint and had been moored near Wilcox fueling pier in Astoria for approximately a year.