Vigor Bags Additional US Navy Repair Job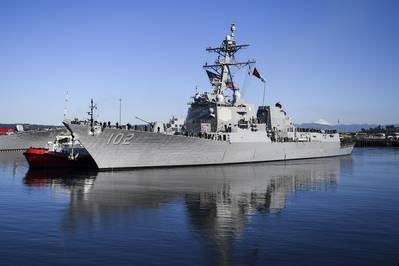 The U.S. Navy has awarded a $42.2 million contract to Vigor for repairs and changes to the guided-missile destroyer USS Sampson (DDG 102).
Work on the USS Sampson will be done in Seattle and Everett and may include blasting, painting and surface preparation, as well as work on the ship's freeboard, struts, rudders, hull, electric infrastructure and other parts, Vigor said.
The $42.2 million dollar award to perform the work is on top of the $35 million firm-fixed-price, indefinite-delivery/indefinite quantity contract to prepare for and accomplish repair and alteration requirements in support of upcoming dry-docking selected restricted availabilities (DSRA) for DDG 51-class destroyers. The previous contract was awarded in March to accomplish the drydocking and facility support requirements for a DSRA and includes dry-docking support, office spaces, warehousing, lay-down, security, crane support, utilities, galley services and other ship's force support.
USS Sampson, an Arleigh Burke-class destroyer, was built by Bath Iron Works in Bath, Maine and commissioned in 2007.