Adjustable Small Boat Chock System Introduced by UMT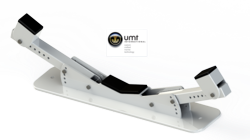 UMT International launches new AU (Adjustable/Universal) chock system for 2013
The challenge for the yacht owner is to find a safe and secure method to bring on board and effectively stow and secure rigid inflatable boats (RIB), rigid tenders, light weight dinghys and jet-skis.
To meet this challenge UMT introduce for 2013 their new "AU" Adjustable/Universal Chocks. The new design with adjustable mounting bolts allows adjustment of the supports to accommodate the different hull patterns on the various tenders and watercraft.
Another special feature of the AU chocks is the same set of chocks can be used for a variety of different applications on the same yacht either allowing the owner to change from RIB to jet-ski as required or when a tender of watercraft is upgraded to a new model.
The AU system not only has adjustable side supports, but also the critical feature of keel support which cushions the load and supports the hull correctly when the yacht is underway.
In addition to the Universal Chocks, UMT International provides custom stainless steel tie-downs to secure the tender or watercraft, providing the safest and most secure stowage solution.