Aircraft Carrier John F. Kennedy Christened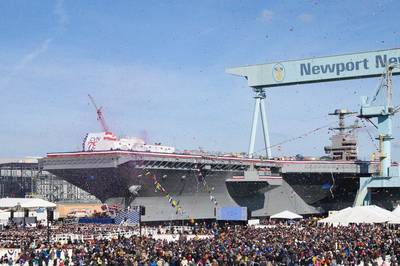 The U.S. Navy's newest nuclear-powered aircraft carrier John F. Kennedy (CVN 79) was christened Saturday during a ceremony at Huntington Ingalls Industries' (HII) Newport News Shipbuilding division.
The second aircraft carrier in the Ford Class, John F. Kennedy (CVN 79) is also the second aircraft carrier built by Newport News Shipbuilding named for JFK. Like its forerunner CVN 78, Kennedy is a truly electric aircraft carrier, with many of the systems powered by steam on Nimitz-class carriers now powered by electricity. The ship is designed to save the Navy $4 billion in total ownership cost over the ship's 50-year lifespan, with fewer overall components, extended drydocking interval and improved ship-wide air conditioning, the builder said.
Newport News noted it is embracing digital data like never before in building aircraft carriers. From eliminating paper drawings and work instructions to using product model data to plan wire ways, digital data is finding its way into the heart of every process at the shipyard—and is saving money on construction.
Since the first cut of steel in February 2011, more than 5,000 shipbuilders have helped to construct Kennedy, and suppliers from 46 states across the country have contributed specialized parts, skilled services and support to aircraft carrier production. In the weeks following the christening, the carrier will be launched into the James River and moved to a pier where outfitting and testing of the ship's systems will continue until the ship is delivered to the U.S. Navy in 2022.
"We are here to celebrate America's military might and the brawn behind it," said Jennifer Boykin, president of Newport News Shipbuilding, during the weekend christening ceremony in Newport News, Va. "We are here to celebrate innovation, pride and perseverance that is the American way, and we are here to honor the patriot who inspired it."
Former U.S. ambassador Caroline Kennedy, the ship's sponsor and daughter of President Kennedy, smashed a bottle of American sparkling wine across the bow to christen the ship.
"This ship will represent the ideals he lived by – courage, sacrifice and belief in freedom – and it will help make real his vision of a more just America and a more peaceful world," Kennedy said.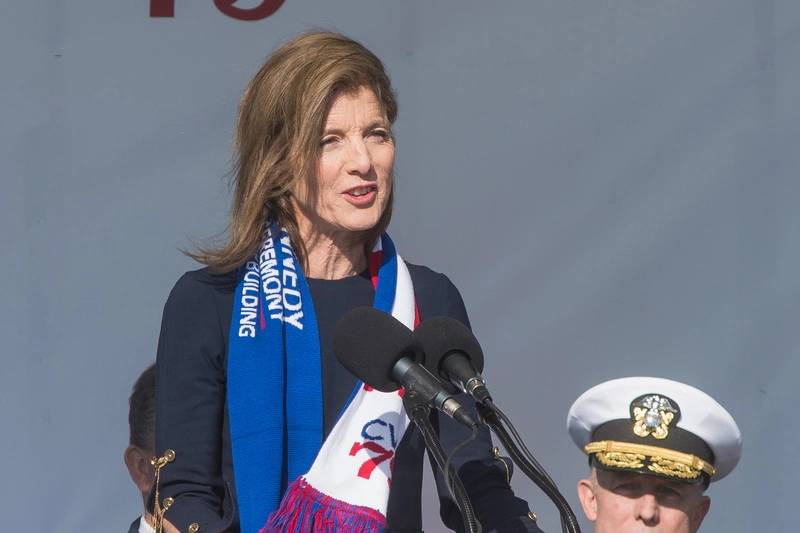 Ship's Sponsor Caroline Kennedy addresses a crowd of more than 20,000 attendees at the christening of John F. Kennedy (CVN 79). The aircraft carrier is the second named in honor of her father President John F. Kennedy. (Photo: Ashley Cowan)

More than 20,000 guests attended the ceremony, including members of the Virginia congressional delegation U.S. Sen. Mark Warner and U.S. Rep. Robert C. Scott, who both offered remarks; and U.S. Rep. Elaine Luria. Other speakers included former U.S. Secretary of State John Kerry and Adm. Frank Caldwell, director of the Naval Nuclear Propulsion Program.
Ceremony participants included James Geurts, assistant secretary of the Navy for research, development and acquisition; Vice Adm. Thomas Moore, commander of Naval Sea Systems Command (NAVSEA); Adm. Christopher W. Grady, commander of U.S. Fleet Forces Command; and Capt. Todd Marzano, the ship's prospective commanding officer.
Adm. Tom Fargo (U.S. Navy, Ret.), HII chairman of the board, and Mike Petters, HII president and CEO, were in attendance, as well as Newport News employees who are building Kennedy, Kennedy's crew, Navy personnel and other government officials. Former sailors who served on the first USS John F. Kennedy (CV 67), which was built and christened at Newport News in May 1967, also attended the ceremony.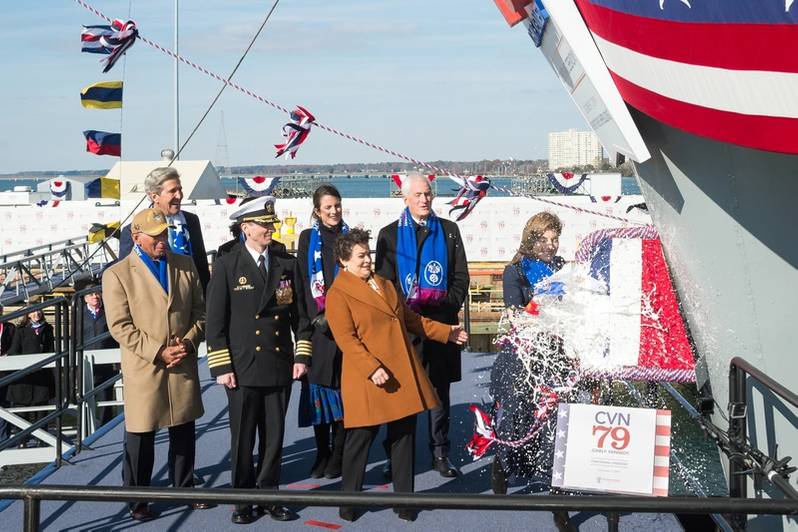 Ship's sponsor Caroline Kennedy christens the aircraft carrier John F. Kennedy (CVN 79) during ceremony Saturday at Newport News Shipbuilding division. Also pictured (left to right) are Charles Frank Bolden Jr., former NASA administrator; John Kerry, former Secretary of State; Capt. Todd Marzano, the ship's prospective commanding officer; Tatiana Schlossberg, the sponsor's daughter; Newport News Shipbuilding President Jennifer Boykin; and Edwin Schlossberg, the sponsor's husband. (Photo: Matt Hildreth/HII)