Alnmaritec Reaches Landmark with Endurance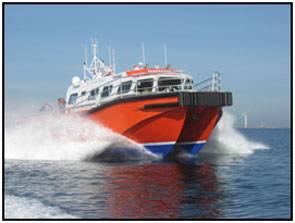 Alnmaritec, an aluminum boat builder based in Northumberland, launched the 100th vessel built by the company. The company offers boats for a broad range of different roles from line handling and oil spill response to fish farming support and harbor patrol. It exports all over the world from the Antarctic to Africa and started building aluminum boats in the late 1980's.

Endurance was launched in August of this year nearly a century after Shackleton's original boat and she is built for duties in wind farm maintenance support roles. As befits the famous name she carries the boat is built to excel while operating in extremely demanding conditions and she is one of the Alnmaritec Wave Commander class.

The Endurance has been built for the operators North Sea Logistics and she is the fifth in a series of sister vessels of the same design built for this company for support operations on offshore wind farms with a further vessel currently under construction at the yard.

Endurance is an aluminum asymmetric catamaran fitted with twin 875bhp Caterpillar C18 diesels engines driving conventional five bladed 800mm diameter fixed pitch propellers through Twin Disc MGX 5135 Quick Shift gearboxes. These give her a top speed of 25 knots and she is also fitted with twin electric bow thrusters which give her excellent maneuverability. Alnmaritec has paid particular attention to the standard of outfit in this vessel and she is fitted with wood paneling and trim in the interior, full suspension seating for the 12 passengers and two crew, full galley and WC as well as a turbine spares storage system. Dave Armstrong, the Managing Director of North Sea Logistics described Endurance as "the best boat that I have had built".