Ammonia Bunkering Study Kicks Off in Savannah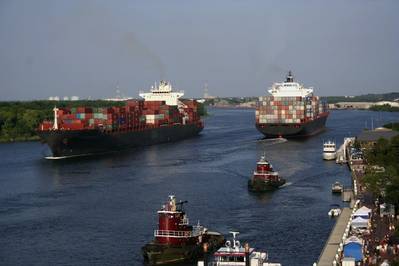 An international group of maritime industry partners are conducting a feasibility study with the aim to establish a commercially viable green ammonia ship-to-ship (STS) bunkering network on the U.S. East Coast.
The study, to be carried out at the Port of Savannah in Georgia, will cover the entire end-to-end supply chain of ammonia bunkering, which includes the development of a cost-effective green ammonia supply chain, the design of an ammonia bunkering articulated tug-barge (ATB), as well as related supply chain infrastructure.
Ammonia, which does not emit CO2 when combusted, is considered a promising alternative marine fuel to help the shipping industry reduce its greenhouse gas (GHG) emissions. Ammonia produced solely from renewable sources, also known as "green ammonia," is carbon-free.
"Ammonia offers shipowners and operators a zero-carbon, tank-to-wake emissions profile," said Panos Koutsourakis, Vice President, Global Sustainability at classification society American Bureau of Shipping (ABS), one of the partners in the project. "Yet, we also recognize that ammonia presents a specific set of safety and technology challenges."
ABS will conduct operational risk assessment of ammonia STS bunkering and lead in the coordination with relevant authorities in the U.S. to establish port regulations and operational guidelines. Georgia Ports Authority, which oversees the Port of Savannah as well as nearby Port of Brunswick, will also assist in establishing port regulations and operational guidelines.
The Port of Savannah, the third largest busiest gateway for containerized trade in America and home to Garden City Terminal, the largest single container terminal in the US, has the ability to serve numerous ammonia-fueled ultra large containerships (ULCS), which could lead to fast and high-efficient decarbonization in the container shipping industry. The rapid-growing port is advancing with its Big Berth/Big Ship program to accommodate six 14,000 TEU vessels simultaneously by 2024, and is planning to add 60% more capacity by 2025. Savannah's proximity to the Ports of Brunswick and Jacksonville – among the nation's busiest vehicle handling ports – may help facilitate decarbonization efforts in the automotive shipping industry as well.
Danish shipping company A.P. Moller - Maersk will provide input specific to containerships and will work on development of safe and reliable ammonia bunkering procedures from an operator's standpoint.
Morten Bo Christiansen, Head of Energy Transition at A.P. Moller-Maersk, said, "At Maersk, we are committed to net zero by 2040. To achieve this we need huge amounts of green fuel for our ships. For now, green methanol is the only pathway that is certain to have material impact in this decade, and we are happy to see the momentum that is building in the shipping industry on this pathway. However, given the enormity of the challenge ahead of us, we must keep exploring additional new fuel pathways. We see green ammonia as a fuel with potential in the long term for commercial shipping. However, safety and environmental challenges related to ammonia's toxicity must be addressed in the short term, and we must get a solid understanding of the cost of bunkering ammonia. This study will help our industry better understand the full spectrum of practical and safety considerations when dealing with green ammonia as a fuel."
U.S. based TOTE Services will develop the ammonia bunkering ATB and procedures, leveraging its track record and experience in LNG bunkering in the U.S.
The world's second largest ship manager Fleet Management Limited will develop procedures from a ship management point of view, and it will also provide technical support for ammonia fueled vessels as well as the ATB design.
Japanese trading company Sumitomo Corporation, which is also involved in ammonia bunkering projects in Singapore and Oman, will structure, integrate and promote end-to-end supply chain of green/blue ammonia, which includes sourcing transportation, storage and bunkering. Savage, will leverage its experience transporting ammonia in the U.S. as it focuses on domestic ammonia transportation for Savannah.
The Maersk Mc-Kinney Moller Center for Zero Carbon Shipping will conduct well-to-wake lifecycle analysis of ammonia andsupport to establish standards for the use of ammonia as a marine fuel.
Claus Winter Graugaard, the center's Chief Technology Officer, said, "Enabling sustainable and scalable alternative fuel pathways is critically important for building confidence and investment appetite in fuel supply chains. At the Maersk Mc-Kinney Moller Center for Zero Carbon Shipping, we are leading multiparty scientific projects and risk management activities on how ammonia can be qualified as a sustainable and safe energy carrier for worldwide marine fuel deployment. The Port of Savannah project is a great logistical entry point for qualifying how ammonia could be made available. Furthermore, it provides a local and regional use case for commercial activation in the U.S. East Coast."