Ace Winches Announces Rise in Profits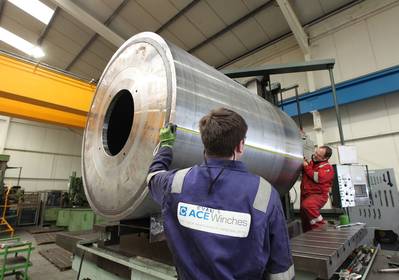 ACE Winches announced profits of £4.8 million (after tax) based on a 30 per cent year-on-year increase in turnover.
The Aberdeenshire-based company reported that turnover for the year-end October 31 2011 increased to £21.9 million from £16.8 million the previous year. Profit increased from £4.2 million in 2010. ACE Winches continued strong showing in the export market, realising 74% of turnover from international activities and sales.
ACE Winches has also continued to invest in growing the business by extending the scale and capability of its hire fleet by investing £6.3 million in new rental assets, facilities and equipment. This included £5 million in ACE-manufactured specialist DNV certified winches (up to 200 tonnes capacity) and zone-rated power units, which has enabled the company to provide an enhanced capability to support its clients on major construction and repair projects on live offshore oil and gas production installations. A further £1.3 million was spent on enhancing manufacturing facilities including plant, equipment and facilities.
This investment, together with development of the group's manufacturing and hire division facility provides capacity for further growth and expansion. In addition the company has continued its commitment to development at its global headquarters on its 24-acre Towie Barclay Works campus, near Turriff.
During the 2011 financial year employee numbers increased to 200 from 162 in 2010, reflecting the firm's ongoing organic growth and expansion. ACE Winches recently announced it has recruited its highest intake of Modern Apprentices to date with another 17 joining the 33 Modern Apprentices currently training on the four year programme, which covers technical, craft and business administration.
Chief Executive Officer Alfie Cheyne, who founded the business, has remained true to his guiding principle that he would create jobs for local people and pledged the company's future to its Aberdeenshire roots.
Mr Cheyne said: "2011 saw us win a number of significant contracts which have contributed to another year of sustained, continuous growth. Once again, we have been able to reinvest a significant sum back into the business and we are now able to develop our hire fleet in response to increased demand.
"Our export sales play a huge role in our continued growth and our Norwegian operations base has once again played a valuable role in the overall achievement. We also continue our commitment to research and development of new products, which is ably supported by our highly skilled manufacturing capability and our ability to deliver high-specification bespoke and standard equipment to customers worldwide on short delivery time lines."
ACE Winches continues to be actively involved in local community initiatives and fundraising, including the adoption of four local charities, sponsorship of the local football team, along with aiding local senior citizens and other groups. Mr. Cheyne said: "The company's main objective remains securing the long term future of the company for the good of all those that work for the company. We continue to be confident of the prospects for the group and the opportunities available to further develop our market position."