Raytheon Anschuetz Introduce Shipborne Training Simulator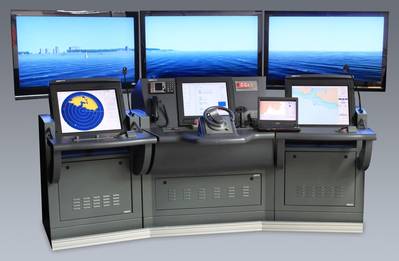 Raytheon to unveil at upcoming CANSEC 2013 Expo an onboard navigation simulator that allows operators to train with the system they will use at sea.
Raytheon Anschuetz, a German based, indirect, wholly-owned subsidiary of Raytheon Company, developed the embedded, simulation-based training system in partnership with Canadian-based Virtual Marine Technology (VMT) to enhance the realism and effectiveness of training offered to operators of Anschuetz's Integrated Navigation System.
A flexible solution, the simulator can be carried onboard a ship in harbor or installed on deployed ships, eliminating the need to conduct only shore-based operator training. If needed, the simulator features an upgraded visualization system to provide the realism to support effective, land-based training as well.

"This new functionality, developed with VMT, provides a higher degree of realism than traditional shore-based training – delivering an innovative solution to improve the quality and effectiveness of the training," said Raytheon Anschuetz's Richard Waldron, manager of business development for Canada. "This simulation system project extends our successful technology development partnership with VMT, the benefits of which transfer to current and future customers."

The comprehensive training solution incorporates a complete set of scenarios, environmental conditions, geographic navigation options, and vessel types to simulate a wide range of training exercises and mission objectives. Fully integrated with Raytheon Anschuetz's Synapsis Intelligent Bridge Control System, it leverages the platform to provide operators effective and efficient real-world training with the actual navigation system.
CANSEC 2013 Defense and Security Exposition, will be held May 29-30, in Ottawa, Canada.

www.raytheon.com