BAE Systems Seeks 710 Apprentices for 2015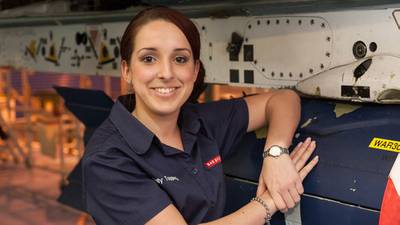 BAE Systems in the U.K said it will take on 710 apprentices in 2015, the highest intake in the company's history.
Next year's intake surpasses the record set in the previous year by 142 places and includes 45 places for apprentices who will eventually join companies in BAE Systems'
supply chain
or work in local engineering companies. The latter are funded under the government's Employer Ownership Program.
The new recruits - two-thirds of whom will be employed in engineering-related roles - will work across 14 of BAE Systems' aerospace, security and defense sites around the U.K. and join the company in September 2015. A significant portion of the apprentices will be based at the submarine design and
manufacturing site
in Barrow-in-Furness shipyard in Cumbria, which requires hundreds of highly skilled staff to deliver the five remaining Astute class attack submarines and to develop the new Successor submarines which are scheduled to replace the Vanguard class from 2028.
The breakdown of vacancies available is as follows:
305 apprentice and 30 higher apprentice roles at Barrow, with four other higher apprentice roles split across sister submarine design sites in Weymouth, Dorset and Ash Vale, Surrey
83 apprentice and 51 higher apprentice roles required for the military aircraft design and production sites in Warton, Preston, Brough in Yorkshire and Yeovil, Somerset. An additional 25 apprentices will be trained for supplier companies in the North West.
143 apprentice and 14 higher apprentice roles at the ship-building and support sites in Glasgow and Portsmouth. BAE Systems will also train an additional 20 apprentices will be trained for engineering companies in the Solent.
10 apprentice roles are available at the company's electronic systems business in Rochester, Kent
Eight apprentice roles at BAE Systems' cyber security and intelligence arm whose offices are in Leeds, Yorkshire and Guildford, Surrey
Six roles with the Combat Vehicles U.K. business in Telford, Shropshire
Six roles with the Munitions U.K. business divided equally between three sites: Glascoed in Monmouthshire, at Washington, Tyne and Wear and at Radway Green in Cheshire
Four with the Naval Combat Systems business, across two sites in Surrey (Frimley and New Malden)
One apprentice role at the radar programs and manufacturing site in Cowes, Isle of Wight
The company, which is keen to achieve a better gender balance in engineering, is hoping that even more women will apply for apprenticeship programs. In 2014 17% of its apprentice intake was female and it is hoped that higher numbers of women will join in 2015 as BAE Systems is committed to increasing the diversity of its apprentice intake. In recent years BAE Systems began specific engineering projects with local schools designed to appeal to girls. This work aligns with the government's Your Life campaign which aims to promote the benefits of a career in science, technology, engineering and math.
Richard Hamer, Education Director & Head of Early Career Programs at BAE Systems, said, "As well as reflecting the workload at our sites, our year-on-year increase in apprentice recruitment reflects the continued success of our training programs in developing skilled and committed employees who are highly valued by the business. Our apprentices have a fantastic track record of reaching the highest leadership positions at BAE Systems with the MD of our military aircraft business beginning his career as an apprentice."
Skills Minister Nick Boles added, "Today's figures from BAE Systems demonstrate the huge progress that has been made under this Government in ensuring young people are entering into high quality apprenticeships. The input of employers such as BAE Systems has been absolutely crucial to this progress, and I congratulate the company on the success of its excellent apprenticeships program.
"In light of the government's commitment to attracting more women into careers around science, technology, engineering and math, particularly through the Your Life campaign, BAE's efforts to recruit female apprentices are also hugely welcome."
BAE Systems currently employs over 33,000 people in the U.K., and is one of the U.K.'s largest employers of engineers. The company's apprentice program, which has one of the highest completion rates in the engineering sector, was voted 'outstanding' by OFSTED in 2010 and has a number of accolades to its name including the National Apprentice Award for the Macro Employer of the Year in 2011.