ABS Approves Design for GTTNA's LNG Bunker Barge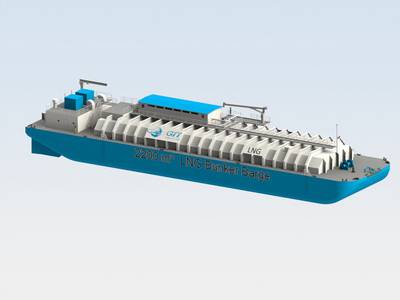 GTT North America (GTTNA), the Houston-based subsidiary of French engineering and technology company Gaztransport & Technigaz SA (GTT), received approval in principle from ABS for the design of a 2,200 cu.m. liquefied natural gas (LNG) bunker barge. The design incorporates GTT's membrane Cargo Containment System (CCS), which is used in 70% of the global LNG carrier fleet and nearly 90% of LNG carrier projects on order. GTT developed the membrane LNG bunker barge to demonstrate the efficient storage of LNG and safe, reliable management of Boil-Off Gas (BOG) in an unmanned push barge application. The barge was designed for use in bunkering operations including ship-to-ship LNG transfers or LNG bulk transport in US inland waterways, harbors, and intra-coastal service. The barge could operate as a mobile refueling resource or be moored temporarily to serve as a refueling station.
The CCS selected for the barge was GTT's proprietary Mark III Flex system, an enhancement of the Mark III system that allows for improved thermal and structural performance of the CCS. The Mark III membrane CCS consists of a cryogenic liner directly supported by the vessel's inner hull, which allows for maximum volumetric utilization of the available cargo space. This liner is composed of a primary metallic membrane fastened atop a prefabricated insulation panel that includes a complete secondary membrane.
The GTT membrane LNG bunker barge will be capable of loading 2156 cu. m. (at 98%) or 570,000 gallons within 4.5 hours and towed at maximum speed of 8 knots. It will measure 212 x 48.5 ft. (64.2 x 14.8 m), with a 15.7 ft. (7.2 m) depth and a 8.5 ft. (2.6 m) fully loaded design draft. The dimensions and gross tonnage of approximately 1,440 GT afford the LNG bunker barge greater maneuverability and access throughout inland and intra-coastal waterways.
A distinguishing feature of the GTT membrane LNG bunker barge is the management of natural BOG through small-scale reliquefaction units. The StirLNG-4 cryo-cooler unit from the Netherlands-based Stirling Cryogenics was the basis of the boil off management system design.
Alameda, Calif.-based Herbert Engineering Corp. (HEC) was commissioned to develop the hull and preliminary machinery design scope and Houston-based CH-IV International to develop the cargo handling system (CHS) design scope. ABS Consulting also assisted in the development of the GTT membrane LNG bunker barge project.

(As published in the April 2014 edition of Maritime Reporter & Engineering News - http://magazines.marinelink.com/Magazines/MaritimeReporter)