ClassNK Approves Furuno ECDIS Training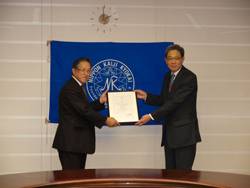 ClassNK issues type Specific Training Course Approval for ECDIS Certification to FURUNO INS Training Center Denmark.
ClassNK issued Type Specific Training Course approval on 2 December 2011 for an ECDIS (Electronic Chart Display and Information System) Training Course offered by FURUNO INS Training Center Denmark. This approval, the first issued by ClassNK in Europe, certifies that the course offered by the center complies with the leading classification society's new Standard for Maritime Education & Training.
New requirements for the installation of ECDIS systems will be phased in from 1 July 2012. Under these new requirements vessels will be required to navigate using ECDIS as their primary chart system. Consequently, masters and deck officers will be required to undergo relevant training and demonstrate both an understanding of and proficiency in using these new systems.
In addition to the generic ECDIS training required by the STCW Convention and Code, some governments, such as the UK and Ireland, and MOU require masters and all deck officers on flag vessels which make use of ECDIS systems as their primary means of navigation undergo Type Specific ECDIS training for the ECDIS systems used onboard their vessels.
ClassNK has developed new certification standards for Type Specific ECDIS training programs to meet the growing demand for not only rigorous generic ECDIS training courses, but also high quality training programs for individual ECDIS Systems.


ClassNK Executive Vice President Koichi Fujiwara, who has led ClassNK's expansion into maritime training certification, said "As the technology used in navigation and ship operation grows ever more complex, and regulation of seafarers becomes more thorough, there is a burgeoning demand across the entire industry for higher quality seafarer training programs. By developing new standards for maritime training, and collaborating with training centers to help the maritime community meet these new standards, we intend to positively address this demand, and thereby contribute to a safer future for our industry."
FURUNO INS Training Center Denmark was established in 2005, and bases its training courses on a full mission navigator simulator, giving the trainees an opportunity to operate the system in all possible simulated situations in a realistic environment.