Austal USA Earns Shipbuilding Safety Award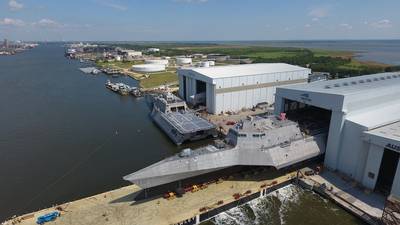 Austal USA received the Shipbuilders Council of America (SCA) Excellence in Safety award during SCA's annual meeting in Washington, D.C.
SCA, the national association representing the U.S. shipyard industry, honors companies with annual safety awards for enhancement of operations and promotion of safety and accident prevention. Austal USA is one of 19 SCA member companies to receive awards for continued advancement of employee safety in the shipyard industry this year.
"Shipyards are complex work environments and safety of employees is critical," said Matthew Paxton, President of the SCA. "Austal USA's stellar safety performance in 2017 reflects excellent leadership in the shipyard and their commitment to safety is proven in the data we've collected. We're proud to recognize Austal USA and the hard-working men and women who reflect the shipyard industry's culture of safety year after year."
In the past nine years, Austal USA has earned 14 safety awards distributed by either SCA or American Equity Underwriters (AEU). AEU honored Austal with our fourth large shipyard Safety and Health award at a celebration held at Austal's shipyard in Mobile, Ala. last month.
"Safety is our number one priority here at Austal USA and to be recognized as one of the safest shipyards in the country is an honor," Austal USA President Craig Perciavalle said. "Austal employees work hard to maintain a safe working environment while building great ships, and take pride in receiving this award as recognition of their attention to safety year after year. I could not be more proud of the men and women who make up Austal's shipbuilding team."
Austal has delivered two LCS to the Navy in 2018 while another five are under construction. LCS 18 is preparing for sea trials as LCS 20, 22, 24 and LCS 26 are following close behind. Additionally, Austal has two more LCS in a pre-construction phase, LCS 28 and LCS 30.
In addition to being in full rate production for the LCS program, Austal is also the Navy's prime contractor for the Expeditionary Fast Transport (EPF) program. Austal has delivered nine EPF vessels, while an additional three are in various stages of construction.