Australia Navy Stage Submarine Escape Exercise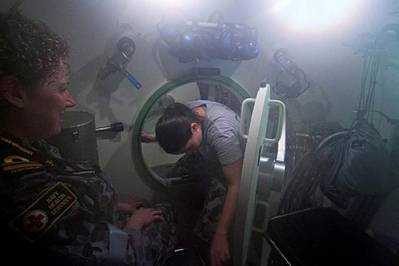 An intensive three week submarine escape and rescue exercise has drawn to a close off the east coast of Australia.

During Exercise BLACK CARILLON 2013, members of Navy''s Submarine Force simulated being evacuated from HMAS Farncomb, which was bottomed in 112 metres of water, in the James Fisher Rescue Service LR5 submersible.
The 21.5 tonne submersible was then lifted onto the deck of a rescue vessel, where its passengers were transferred into decompression chambers without being exposed to the outside air pressure.

The James Fisher Rescue Service LR5 Submersible was mobilised from its base at Henderson, WA, flown by RAAF 86 Wing C17 Globemaster to the east coast and then embarked on Australian Defence Vessel (ADV) Ocean Shield.

"During BLACK CARILLON, Navy worked closely with defence partners and contractor James Fisher Defence to mobilise and test the equipment on the east coast. It was also the first time that ADV Ocean Shield was used as the mother ship. The Navy adds that her size and ability to dynamically position proved to be an invaluable capability during the rescue operation.

Commander Submarine Force, Captain Mark Potter, RAN, said while it's unlikely the equipment will be needed, maintaining the capability is essential. "Submariners are an important part of naval capability. Should the unthinkable happen, it is essential that we have established and well practiced procedures in place to rescue personnel,"" added Captain Potter.