Lake Assault Boats Available Through GSA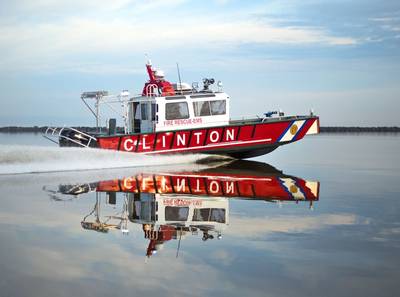 Lake Assault Boats, part of Fraser Shipyards and a manufacturer of purpose-built, mission-specific fire and rescue boats,has announced that the company's boats are now listed on the U.S. government's General Services Administration (GSA) Schedule.
Government agencies, including most municipal fire departments and law enforcement organizations can use GSA Schedule contracts – which contain pre-negotiated prices, delivery terms, warranties, and other terms and conditions – to streamline the process and leverage the buying power of the
federal government
.
"Being listed on the GSA Schedule simplifies the purchase process and enables our customers to purchase a Lake Assault craft at what are, in effect, pre-negotiated terms and conditions that represent an excellent value,"
said Chad DuMars
, Lake Assault Boats vice president of operations. "Moreover, we've listed a wide selection of sizes, styles, and pre-configured options and power packages that give customers lots to choose from."
Lake Assault fire and patrol boats available on the GSA Schedule include 32 distinct configurations. They include a traditional V-hull or the company's signature landing craft style hull with a hydraulically-operated bow door and integrated ladder; full-width or walk-around pilot house; fire pump options; a wide range of
electronics
; scene and emergency lighting packages; and a choice of engine options from a variety of manufacturers.
"Specifying a custom, mission-ready craft doesn't need to be a long or burdensome process," added DuMars. "We've developed a wide selection of 32 fully outfitted boats, with groups of popular equipment packages, to meet the needs of our customers."