Baltic Dry Index Snaps 16-day Losing Streak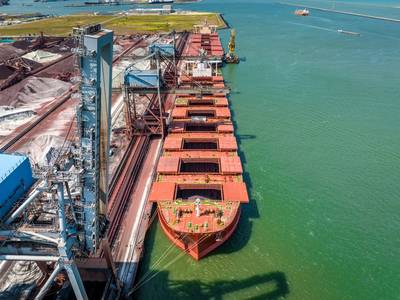 The Baltic Exchange's main dry bulk sea freight index rose for the first time in 17 sessions on Monday, buoyed by an uptick in the larger capesize and panamax vessel segments.
The overall index, which factors in rates for capesize, panamax and supramax shipping vessels ferrying dry bulk commodities, gained 20 points, or 2.2%, to 939.
The capesize index added 62 points, or 5.6%, at 1,178, after posting its biggest weekly percentage fall in almost four months last week.
Average daily earnings for capesizes , which typically transport 150,000-tonne cargoes such as iron ore and coal, increased $512 to $9,766.
Dalian and Singapore iron ore futures climbed to their highest in six weeks after a Bloomberg report said top steel producer China was working on new measures to support its property market.
"Potential stimulus in China added to the positive sentiment for capesizes as they would perhaps see the most benefit", said Alexis Ellender, dry bulk analyst at Kpler.
The panamax index rose 18 points, or 1.8%, to 1,048.
Average daily earnings for panamaxes, which usually carry coal or grain cargoes of about 60,000 to 70,000 tonnes, rose $165 to $9,343.
Among smaller vessels, the supramax index lost 16 points, or about 2%, at 803, hitting its lowest since late February.
Uncertainty around the Black Sea grain export corridor and the end of the peak soybean export season from Brazil could have weighed on smaller vessels, Ellender added.
(Reuters - Reporting by Arshreet Singh; Editing by Shweta Agarwal and Shilpi Majumdar)