Better Blasting: Send in the Robots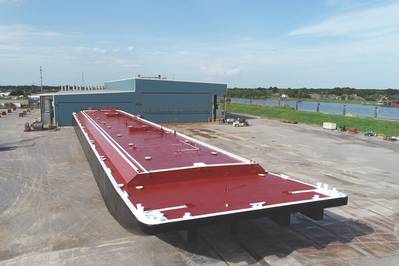 When designing and constructing a new blast and paint facility at its yard in Belle Chasse, La., C&C Marine and Repair set out to create a safe, efficient and environmentally friendly worksite that would deliver a high-quality product.
Fifteen months and 131 barges later, C&C Marine has nearly doubled its capacity as the facility and its robotic blasting technology continually meet and exceed expectations, says Tony Cibilich, president and owner of C&C Marine and Repair, who sees a long list of benefits for customers, the environment and the yard itself.
Robotic blasting, although a crucial component of the facility today, wasn't always part of the picture. "Initially, the plan was to build a new indoor blast and paint facility with a state-of-the-art filtration system with the blasting done by hand," Cibilich says.
Sometimes plans change. C&C Marine, while researching blast techniques, discovered Blastman Robotics, a Finnish company that manufactures robots to blast rail cars and containers. "After meeting with Blastman, we quickly realized there was an opportunity to adapt this technology for the barge industry," Cibilich recalls. "We were determined to create a process of blasting and painting barges that would be better for the environment, safer for our employees and more efficient."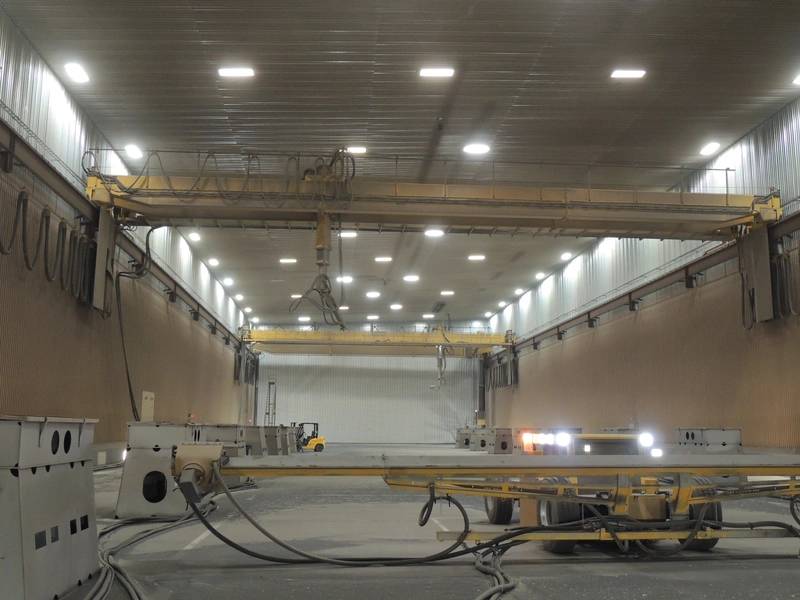 (Photo: C&C Marine and Repair)
Cibilich says C&C created the conceptual design (patent pending) and worked with Blastman to design and build the site's custom, state-of-the-art mobile blasting unit.
"The robotic blasting process consists of an upper system and a lower system, that can work simultaneously or independently. Although the upper robots employed Blastman's typical blast technology, our system was twice the size of anything Blastman had ever built. The bottom robot became the more challenging system because the technology to blast the bottom of barges was nonexistent."
The facility was designed and built specifically to perform blast and paint jobs for the marine industry, including hopper, tank and deck barges, Cibilich says, but adds, "We can blast virtually anything subject to size constraints. On occasion, the facility has been used to blast structural components and assemblies for C&C projects."
"With all the system modifications, our capacity has nearly doubled," Cibilich says.
The site is currently operated by a staff of 16 with the capacity to operate 24 hours a day. About 90% of the work is repair, but all barges newly constructed by C&C are blasted in the new facility.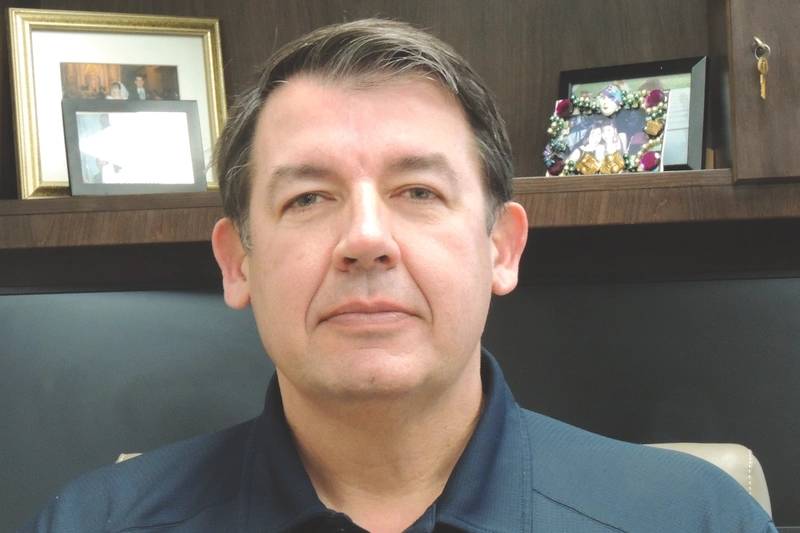 Tony Cibilich, president and owner of C&C Marine and Repair (Photo: C&C Marine and Repair)

Cibilich says the steel grit media used onsite provides a superior profile finish over conventional media, resulting in improved paint adhesion to steel with fewer required paint jobs during the life of the barge.
"The paint facility can perform a full range of marine coatings and applications, including anti-fouling, epoxy, non-skid deck application and any customer-supplied specification and applications," Cibilich says. "And due to our superior blasting and painting processes, C&C is currently in discussions with paint manufacturers to guarantee their coatings for a to-year period."
Being able to work indoors provides a number of benefits – for customers, the environment and the yard itself.
"The indoor facility prevents overspray, contamination and runoff of paint and blast media into adjacent waterways. The facility's state-of-the-art air filtration system collects and encapsulates over 99% of all airborne particulates associated with the blast and paint process. The nontoxic steel shot blast media can be filtered, separated and reused approximately 150 times over in subsequent blasting operations, reducing waste typically sent to landfills."
"Because we are operating in a controlled environment, overspray is minimal. We estimate that we reduce paint consumption by 20%, a cost savings recouped directly by the customer as they typically provide the paint. Additionally, the controlled environment of our fully enclosed facility allows us to spray a single coat over the entire barge as opposed to spraying in sections as is typically done when painting outside."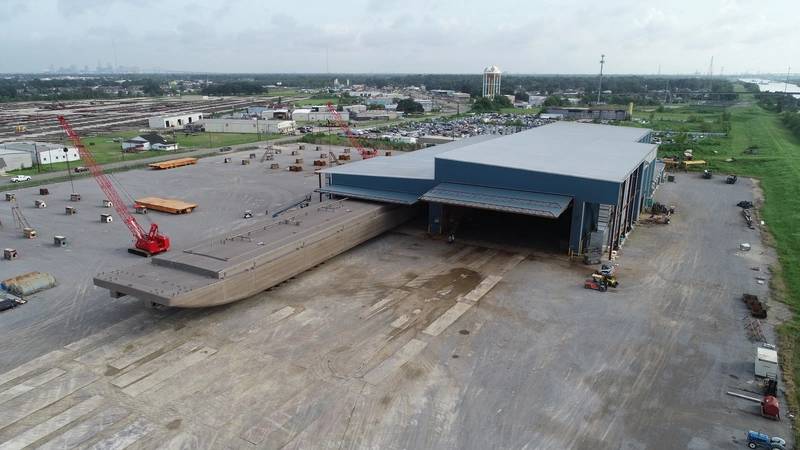 (Photo: C&C Marine and Repair)
Another benefit is a safer work environment for employees. "During the blasting process, operators oversee and control operations safely from a segregated air-conditioned control room. Additionally, by eliminating the need to erect scaffolding to perform blasting operations, the dangers associated with manually operating a blasting hose at multiple elevations are eliminated."
And by taking projects indoors and out of the elements, the facility helps to keep C&C Marine's projects running smoothly and on schedule. "The facility is unaffected by inclement weather," Cibilich says. "We can provide uninterrupted service resulting in faster turn-around times."
The new facility has even helped to increase the volume of work coming through the yard. "The facility has had the unexpected benefit of attracting new customers who are impressed with the overall quality provided by C&C Marine and Repair for both repairs and newbuilds," Cibilich says.
And barges that go through the blast and paint facility regularly receive other services while on site. "Existing customers often request additional repair services," Cibilich says. "C&C Marine and Repair offers customers a wide range of repair services including ISE work, topside repairs, hull damage repairs, bottom replacement, barge coatings and tank liners. Most of our customers understand that by performing all their repair needs at one location, they will save time and it is the most cost-effective approach to managing their fleets."
Cibilich says 2020 capacity is currently 60% booked, but because blasting and painting is scheduled to accommodate the barge schedule, availability exists throughout the year. He notes C&C Marine has the ability to increase capacity to meet customer needs.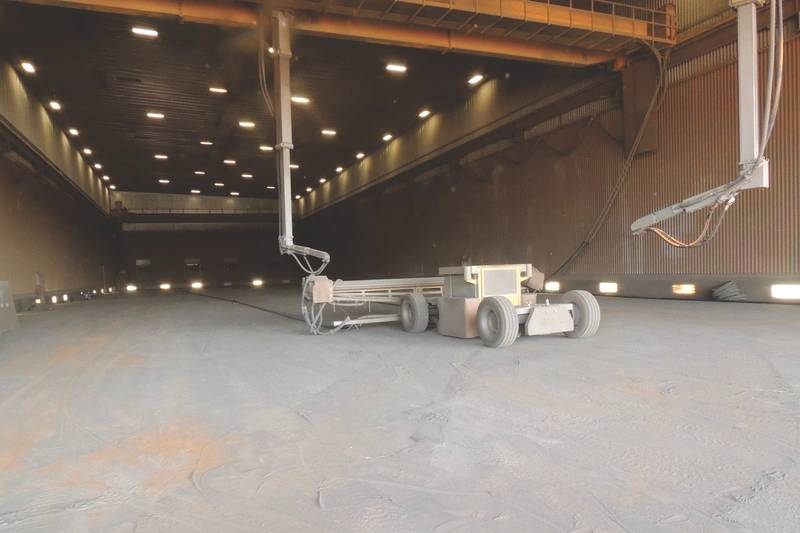 (Photo: C&C Marine and Repair)