BIO-SEA BWTS Developed for U.S. Navy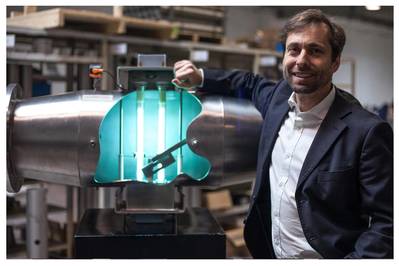 BIO-UV Group said that a BIO-SEA Ballast Water Treatment System (BWTS) designed for the Unites States Navy (USN) completed Factory Acceptance Tests (FAT) at the production facility in France. BIO-UV Group now has approval to ship the system to a USN facility for operational testing.
BIO-UV Group is working with The Columbia Group, Inc. (TCG), a U.S.-based engineering partner, and prime contractor in the development project. Teaming up with BIO-UV Group design engineers, TCG was awarded a contract in 2021 to develop a military version of BIO-SEA's United State Coast Guard (USCG)-approved ultraviolet light (UV) ballast water disinfection system to equip future USN ships. Contract awards were open to international vendors based on a competitive proposal process.
The tailor-made system developed for the USN is a filtration and UV-based BWTS capable of dealing with flow rates up to 300m3/h and plans include the manufacture of a system capable of up to 1,000m3/h.