Bollinger Wins SCA Safety Award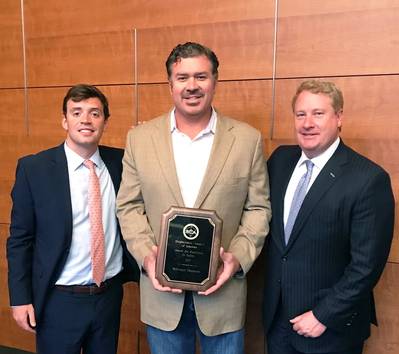 Bollinger Shipyards was presented the 2017 "Award for Excellence in Safety" by the Shipbuilders Council of America (SCA) on May 17, 2018 during SCA's Annual General Membership Meeting in Washington, D.C.
SCA, the national association representing the U.S. shipyard industry, honors companies with annual safety awards for enhancement of operations and promotion of safety and accident prevention.
Ben Bordelon, Bollinger President and CEO, noted Bollinger has earned the SCA Award for Excellence in Safety in 13 consecutive years.
"This recognition of exceptional safety performance is realized from a commitment at the highest level and the continued focus of Bollinger employees on workplace safety," Bordelon said. "Bollinger remains steadfast in establishing a culture of positive and focused work habits."
SCA members constitute the shipyard industrial base that builds, repairs, maintains and modernizes U.S. Navy ships and craft, U.S. Coast Guard vessels of all sizes, as well as vessels for other U.S. government agencies. In addition, SCA members build, repair and service America's fleet of commercial vessels.
Bollinger Shipyards is a designer and builder of fast military patrol boats, ocean-going double hull barges, offshore oil field support vessels, tug boats, rigs, liftboats, inland waterways push boats, barges, and other steel and aluminum products from its new construction shipyards. Bollinger has 10 shipyards and all are throughout Louisiana with direct access to the Gulf of Mexico, Mississippi River and the Intracoastal Waterway. Bollinger is the largest vessel repair company in the Gulf of Mexico region.