Carnival to Drydock 32 Ships by 1H 2016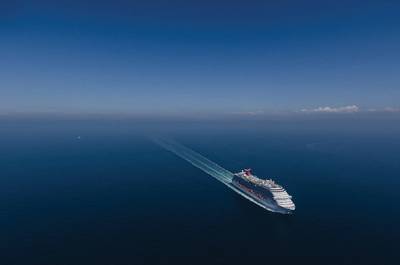 In the quest meet stringent new emissions regulations, cruise industry major Carnival Corp. earlier this month reached an agreement in principle with the U.S. Environmental Protection Agency (EPA) and Coast Guard to develop its own advanced emission control technology to be used in waters surrounding U.S. coasts. The plan calls for the cruise major to drydock 32 ships between now and the first half of 2016.
According to the EPA, Carnival will develop and deploy a new exhaust gas cleaning system on up to 32 ships over the next three years to be used in Emission Control Areas (ECA's), the area around U.S. and Canadian coasts where ships must reduce air pollution emissions.
The new controls to be developed and deployed combine the use of sulfur oxide (SOx) scrubbers with diesel particulate filters, which essentially combines technologies well known in the power plant and automotive sectors, but not previously used together on a marine vessel.
The technology can also provide additional benefits in the reduction of particulate matter and black carbon, and according to the release from the government, will provide an opportunity for ECA compliance at a significant (50% or greater) reduction in cost and may yield emission reductions beyond those required by current requirements.

The ECAs were developed by the U.S. and Canada through an agreement with the International Maritime Organization (IMO) in order to protect human health and the environment by significantly reducing air pollution from ocean-going vessels. By 2020, ECA limits will reduce nitrogen oxide (NOx) emissions by 320,000 tons, particulate matter (PM) emissions by 90,000 tons, and SOx by 920,000 tons. Each year, the standard will also result in the prevention of tens of thousands of premature deaths while relieving respiratory symptoms for nearly five million people.

This announcement follows a growing trend, as in late 2012 U.S. containership owner TOTE announced its plans to build a series of high-spec ships at NASSCO that incorporated MAN Diesel & Turbo engines capable of burning LNG as fuel.

A joint letter from the Coast Guard and the U.S. EPA to Michael Kaczmarck, Carnival's VP of Shipbuilding, said: "Under the proposed trial program, Carnival will install exhaust gas cleaning systems for engines on 32 vessels that operate in the ECAs, and those systems will help enable the vessels to meet or exceed the sulfur emission levels required within the ECAs. We understand that Carnival will install sufficient exhaust gas cleaning capacity on each of the ships to meet or exceed the 2015 ECA fuel sulfur requirements. Additionally, these exhaust gas cleaning systems will be installed during vessel drydocks on the following schedule: 9 ships in 2014; 16 ships in 2015 and 7 ships in the first half of 2016."