Newly Christened ATB Marks Milestone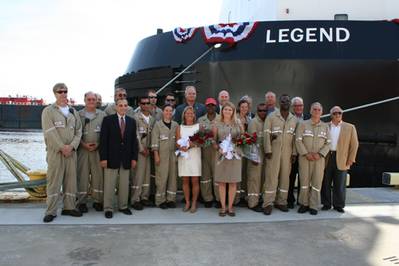 Crowley Maritime Corporation recently welcomed a new addition to its American-made and operated fleet of petroleum tank vessels, the 750-class articulated tug-barge (ATB) Legend/750-2.
The milestone came exactly five years after Crowley first announced plans to build the 750-class, which is considered one of largest, fastest and safest in the industry. The latest vessel is the second of three in the class, and will transport petroleum products – including gasoline – along the U.S. West, Gulf and East Coasts.

"We are extremely pleased to add another 750-class ATB to the fleet," said Crowley's Rob Grune, sr. vice president and general manager, petroleum services. "We are confident that, like the first of its kind, the Legend/750-2 will also exceed industry standards for the safest possible transportation of petroleum and chemical products."

The 16,000-horsepower tugboat Legend and 330,000-barrel tank barge 750-2, which measure 674 feet in length combined, were christened late September in front of more than 100 dignitaries in the Port of Tampa, where Crowley currently discharges nearly 163 million gallons of product each month and between five to seven of its vessels call to deliver cargo and petroleum products weekly.

The first of its class, the Legacy/750-1, which was christened nearly a year ago in November 2011, is already at work in the U.S. Gulf Coast. The last of the three, the Liberty/750-3 - is currently under construction and once completed, will be operated in the Jones Act U.S. coastwise trade by Crowley's petroleum services group, along with the Legacy/750-1 and Legend/750-2.


Crowley currently employees 14 American crewmembers onboard each American-made 750-class ATB. Both barges, 750-1 and 750-2, were built by VT Halter Marine Inc. in Pascagoula, Miss., and the tugs Legend and Legacy were constructed by Dakota Creek Industries, Inc. in Anacortes, Wash. The Liberty/750-3 is scheduled for delivery during the first half of 2013. The 750-Class barges are 45,000 deadweight tons, 600 feet in length, 105-feet, six-inches in breadth and 54-feet, three-inches in depth. The fully loaded draft is 35 feet. These three new vessels will bring Crowley's total ATB fleet to 17, including four 155,000-barrel and ten 185,000-barrel ATBs.

Crowley also, continued the expansion of its American-made new build program with the recent christening of the first two of four Ocean Class tugs, the Ocean Wind and Ocean Wave, last week in New Orleans.