New Port of Montreal Tugboat Christened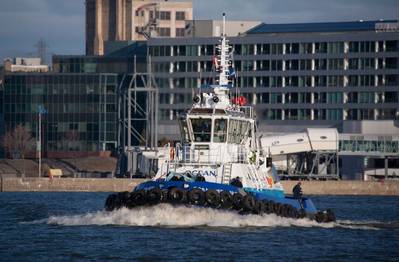 Océan Remorquage Montréal Inc. tugboat 'Ocean Pierre Julien' christened at the Ocean Industries shipyard, Isle-aux-Coudres.
The construction of this tug cost $ 10.6 million, and the vessel is the 3rd of the Intrépide series to be built at Ocean Industries.
The traditional christening ceremony was held in the presence of the President and First Vice- President and General Manager of Ocean, Messrs. Gordon Bain and Jacques Tanguay, of Ms. Sylvie Vachon, President and CEO of the Montreal Port Authority, of Mr. Pierre Julien, Executive Vice President - Special Projects at Ocean (whose name was given to the new tugboat) and of his wife, Ms. Nicole Gagné, the ship's godmother.
The construction of this vessel was made possible, in part, due to the financial support of Industry Canada through its Structured Financing Facility program. This contribution, granted to Océan Remorquage Montréal Inc., represents close to 15% of the construction cost.

This 25-meter tug is equipped with the latest technologies, including a firefighting system with water cannons that have an output capacity of 1,200 cubic meters per hour, the equivalent of five fire trucks. The new vessel is twin-engined and has two omnidirectional Z-Drive propulsion systems.
Océan Remorquage Montréal Inc. and Ocean Industries Inc. are Ocean companies. Ocean, a major Quebec maritime company, operates out of several locations along the St. Lawrence River and the Great Lakes.