New Flagship CMA CGM Christophe Colomb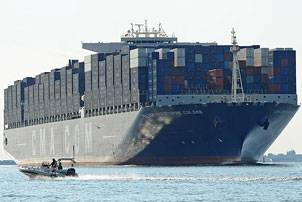 Last week the new flagship from the French shipping company CMA CGM came from Le Havre and, with a holding area capacity of 13,800 TEU as well as 800 connections for reefers and a deadweight capacity of 157,000 tons, it is currently one of the largest container ships worldwide. The container giant measures 1,199 ft in length and reaches a maximum draught of 50.8 ft when used to full capacity.

CMA CGM deploys the CMA CGM Christophe Colomb in the Asia-Europe-Liner service "French-Asia-Line 1" (FAL1). In the FAL1 the following ports of call will be serviced in Asia: Port Kelang, Yantian, Dalian, Xingang, Shanghai, Xiamen, Hong Kong, Yantian, Port Kelang. Marsaxlokk and Khor Fakkan will be called in easterly direction. In westerly direction, Tangiers is also on the schedule. Then the CMA CGM Christophe Colomb will change to the new – operated jointly with Maersk Line – Far East service FAL5, which will link Hamburg with Port Kelang, Singapore, Ningbo, Shanghai, Yantian, Tanjung Pelepas and Port Kelang. The container giant's first call in the new Far-East service FAL5 in Hamburg will take place in October 2010. Container traffic with Asia reached a total volume of 4.2 million containers (TEU) in 2009 in Hamburg. With 2.3 million TEU, the People's Republic of China (including Hong Kong) once again occupied the top position amongst the most important trading partners of the Port of Hamburg in container traffic in 2009, followed by Singapore. Other top trading partners in Asia are South Korea, Malaysia and Japan.

In Hamburg, HHLA Container Terminal Burchardkai (CTB) took care of unloading and loading the more than 5,200 TEU container load; a quantity which would suffice to utilize the capacity of 52 container trains. To be able to handle ships of this magnitude with maximum productivity, HHLA equipped berth 2 at the CTB with five Super-Post-Panamax bridges over the past months. These are tandem bridges, which can move two 40-ft containers or four 20-ft containers from the container ship in one single move. These container bridges are the largest and most efficient of their kind throughout Europe. In total, the CTB now has command of ten Super-Post-Panamax bridges to handle the large container ships.