ClassNK Expands China Service Network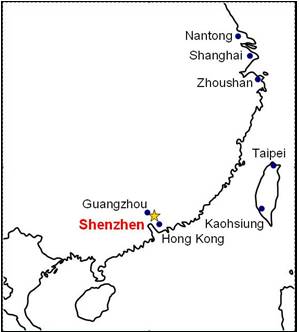 Leading Class Society Establishes New Office in Shenzhen

31 March 2011 – ClassNK officially announced the opening of a new exclusive surveyor office in Shenzen today. The ClassNK Shenzhen Office becomes the 11th office the society has opened in China, marking the continued growth of ClassNK's presence in the Chinese market.

Located between Hong Kong and Guangzhou, the Shenzhen region is one of the fastest growing maritime hubs in Southern China, serving as both an important shipping hub, and an increasingly popular stopover for maintenance and ship repair. ClassNK's new Shenzhen office will serve all major ports in the region, including Mawan, Shekou, Chiwan, and Yantian, and the region's leading shipyards.

The continued growth of China as one of the world's leading maritime nations is of great of importance to entire maritime industry, including ClassNK. Newbuilding tonnage classed with the Society in China grew by more than 60% between 2009 and 2010, and as Shenzhen in particular has grown as a maritime center, demand for ship surveys in the region has been rapidly increasing."

This new office will make it possible to provide even better service to the increasing number of vessels from throughout the world that call at Shenzhen's ports, as well as better serve the growing local maritime industry.

The rapid expansion of ClassNK's service network parallels the rapid growth of the Society's register, which saw newbuilding registrations reach almost 20 million gross tons in 2010. With the opening of this new Shenzhen Office, ClassNK now maintains a global network of 119 exclusive surveyor offices around the globe, including 98 offices outside of Japan.