Navy to Commission LPD 24 'Arlington'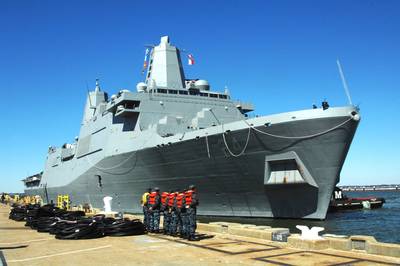 The Navy set to commission the newest San Antonio-class amphibious transport dock ship, 'Arlington'.
The ship is named for the county of Arlington and honors the first responders and the 184 victims who died when American Airlines Flight 77 crashed into the Pentagon Sept. 11, 2001.


"This ship and her proud name symbolize what is exceptional about the United States," said Secretary of the Navy Ray Mabus. "For the next several decades, Arlington will take Marines and their equipment wherever they are needed, whether to provide humanitarian assistance or lethal combat capability. But more important, Arlington will carry with her the legacy of valor exhibited by Marines throughout the Corps' history and shown by those who lost their lives on American Airlines Flight 77."


Gen. James F. Amos, commandant of the Marine Corps, will deliver the ceremony's keynote address. Welcome remarks will be made by Bob F. McDonnell, governor of Virginia, and additional remarks will be given by Rep. E. Scott Rigell of Virginia, Rep. James P. Moran of Virginia, Adm. William E. Gortney, commander, U.S. Fleet Forces Command, Allison F. Stiller, deputy assistant secretary of the Navy for ship programs, and Irwin F. Edenzon, president, Huntington Ingalls Industries. 


Joyce Rumsfeld, wife of former Secretary of Defense Donald H. Rumsfeld, is serving as the ship's sponsor. In a time-honored Navy tradition, she will give the order to "man our ship and bring her to life!" 

Cmdr. Darren W. Nelson of Rushville, Neb., is the commanding officer and will lead a crew of 360 officers and enlisted Navy personnel and three Marines. The 24,900-ton ship is 684 feet in length, has an overall beam of 105 feet, and a navigational draft of 23 feet.
The commissioning ceremony will be at 12:30 p.m. EDT, on Saturday, April 6, 2013, at Naval Station Norfolk, Va.