USS Portland Commissioned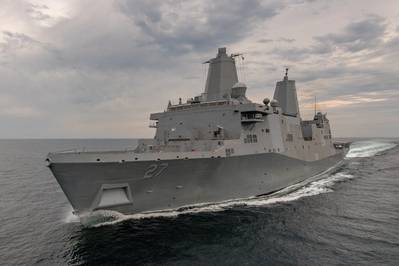 The U.S. Navy commission its newest amphibious transport dock ship during a ceremony Saturday, April 21, at the Port of Portland, Marine Terminal 2 in Portland, Ore.

Built by Ingalls Shipbuilding in Pascagoula, Miss., USS Portland (LPD 27) is the 11th ship in the San Antonio class designed to support embarking, transporting, and landing elements of more than 800 Marines with both a flight deck, which accommodates CH-53E Sea Stallion, and MV-22 Osprey tilt-rotor aircraft, and a well deck, which can launch and recover landing craft and amphibious vehicles.

San Antonio-class ships support a variety of amphibious assault, special operations or expeditionary warfare missions, operating independently or as part of amphibious ready groups, expeditionary strike groups, or joint task forces. San Antonio-class ships have also conducted anti-piracy operations, provided humanitarian assistance and supported foreign disaster relief operations around the world.

Portland's keel was laid on August 2, 2013, and the vessel was launched February 13, 2016. The ship was delivered on September 18, 2017, and was commissioned for the Navy on December 14, 2017, but her official commissioning ceremony wasn't held until April 21, 2018.

"USS Portland enters service in a period of dynamic security challenges, and I am confident this ship and crew will conquer these and future challenges because of the strength and talent of the Sailors and Marines who will serve aboard this ship," said Secretary of the Navy Richard V. Spencer. "I am certain that USS Portland will proudly represent both the United States and the people of Portland in maritime operations around the world for decades to come."

Deputy Secretary of Defense Patrick M. Shanahan delivered the ceremony's principal address. Bonnie Amos, wife of the 35th Commandant of the Marine Corps, retired Gen. James F. Amos, served as the ship's sponsor.

USS Portland (LPD 27) is the second ship to honor Oregon's largest city and is the third U.S. Navy ship to bear the name Portland. The first ship was heavy cruiser USS Portland (CA 33), named for the city in Maine, which was commissioned in 1933. The second ship, dock landing ship USS Portland (LSD 37), named for the cities of the same name in Maine and Oregon, was commissioned in 1970.