New Satellite Communications System For Workboats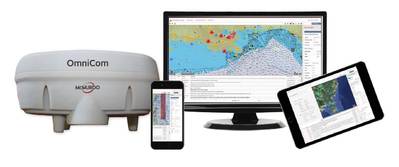 McMurdo has announced a new global satellite communications system, McMurdo OmniCom, the first in a family of products that will be rolled out over the next six months to provide complete worldwide fleet management and vessel monitoring solutions for the workboat, commercial fishing and artisanal fishing industries.

McMurdo OmniCom is an integrated solution for commercial fleet operations that combines worldwide satellite coverage for constant communications to and from remote vessels with PRISMA Connect, McMurdo's proven fleet management platform to provide a robust suite of vessel tracking, two-way messaging, asset/document management and Automatic Identification System (AIS) display.

Features of the OmniCom solution include:
Least Cost Routing – Least Cost Routing helps better manage communications expenses by automatically switching from Iridium satellite to low-cost cellular when available. The OmniCom system provides 3G cellular coverage and speed, changing seamlessly to satellite when out of cell range so connectivity is never lost. This built-in technology is fully customizable and results in the most cost-effective satellite communications possible.
Expanded Global Coverage – McMurdo's OmniCom uses the Iridium Satellite Network, the only network that provide 100% global coverage including the polar regions. With this system, vessels can travel to any part of the world and maintain connectivity through both global cellular and satellite networks, all through a single provider.
24/7 Live Customer Service – McMurdo is the only fleet management provider that provides LIVE customer service 24 hours a day. Because McMurdo designs, builds and services the entire integrated system, our global customer support team can resolve issues with a single phone call resulting in efficient and easy maintenance of the solution. The global support team works with a range of customers from single-vessel owners to fleets of 100+ vessels and is expert in providing live customer service to every level of technical knowledge.
Fleet Management – OmniCom is part of an integrated solution with McMurdo's fleet management software, PRISMA Connect. This world-class, web-based software improves operational performance through real-time vessel tracking with customizable map layers, two-way messaging, daily logs and reporting for compliance and billing.