SatCom Communications Solution by Delta Wave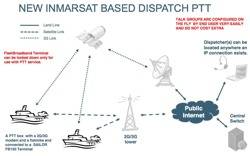 Delta Wave Communications offers new 'Push to Talk' & dispatch over satellite maritime communications system
Delta Wave Communications, LLC, announces that it is offering a new global dispatch solution that provides Push to Talk (PTT) and dispatch facilities over satellite, with global coverage utilizing the Inmarsat satellite network.
Ideal for maritime customers, as well as disaster recovery and emergency preparedness personnel, the service utilizes Thrane and Thrane's land, vehicular, and marine based Inmarsat terminals,
Thrane BGAN terminals are portable, very easy to set up, and require minutes to deploy in the field and to acquire internet connectivity. Additionally, the equipment also allows the field personnel to access the internet, as well as send/receive email globally in remote locations where terrestrial or cellular networks do not exist.
While the existing satellite based dispatch solution is limited coverage in N. America, the new technology offers global coverage and gives the end user on-the fly control when it comes to managing user access.
IP based, it eliminates the necessity of base station equipment, as the software allows the dispatcher to easily create talk groups on the fly.
The dispatcher has full control, and can be mobile; since the system works anywhere an IP connection exists. It eliminates the need for the dispatcher to remain at one location. Additionally, the technology offers least cost routing, which automatically and seamlessly switches over to 2G/3G/4G networks, which further reduces costs to the end user.