Portland (LPD 27) Completes Builder's Sea Trials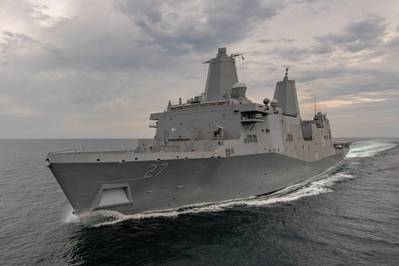 Amphibious transport dock Portland (LPD 27) being built by Huntington Ingalls Industries' (HII) Ingalls Shipbuilding division has completed her first set of sea trials. Ingalls' test and trials team spent four days in the Gulf of Mexico operating the 11th San Antonio-class ship and demonstrating its systems.
Major testing conducted during builder's trials include anchor-handling, ballast/de-ballast of the ship's well deck, detect-to-engage, full power ahead and astern and steering demonstrations.
Ingalls' shipbuilders are now preparing Portland for acceptance trials in August, when the U.S. Navy's Board of Inspection and Survey (INSURV) will conduct inspections and witness final demonstrations before the ship is delivered to the Navy.
LPD 27 will be the third Navy ship named Portland, honoring both the
Oregon seaport
and Maine's largest city.
Ingalls has delivered 10 San Antonio-class ships to the Navy,
including John P. Murtha
(LPD 26) in 2016. Ingalls will lay the keel of the 12th San Antonio-class ship, Fort Lauderdale (LPD 28), this fall. Ingalls was recently awarded an advance procurement contract for LPD 29.
The San Antonio class is part of the Navy's 21st century amphibious assault force. The 684-foot-long, 105-foot-wide ships are used to embark and land Marines, their equipment and supplies ashore via air cushion or conventional landing craft and amphibious assault vehicles, augmented by helicopters or vertical takeoff and landing aircraft such as the MV-22 Osprey. The ships support a Marine Air Ground
Task Force across
the spectrum of operations, conducting amphibious and expeditionary missions of sea control and power projection to humanitarian assistance and disaster relief missions throughout the first half of the 21st century.