Construction Milestone for DDG 51 Program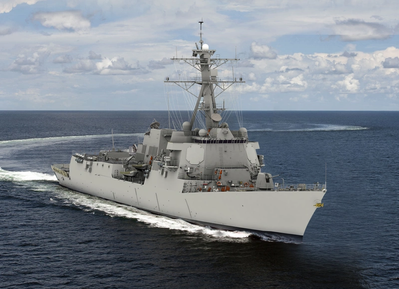 The U.S. Navy's Arleigh Burke-class (DDG 51) destroyers program notched two shipbuilding milestones with the recent start of construction at shipyards Bath Iron Works (BIW) in Bath, Maine, and Huntington Ingalls Industries in Pascagoula, Miss.
Construction of the future USS Harvey C. Barnum Jr. (DDG 124) officially began on May 17 at BIW, where the ship's namesake, Col. Harvey "Barney" Barnum, Jr. (Ret.), was on hand to mark the start of fabrication on the ship.
In Pascagoula, construction of the future USS Jack H. Lucas (DDG 125) officially began May 7. DDG-125 will be the first Arleigh Burke class destroyer built in the Flight III configuration with improved capability and capacity to perform anti-air warfare (AAW) and ballistic missile defense (BMD) in support of the integrated air and missile defense (IAMD) mission.
The milestones, which signify the first 100 tons of steel being cut, were marked with ceremonies held in the shipbuilders' respective fabrication sites.
The new vessels are Aegis baseline 9 (DDG-124) and baseline 10 (DDG-125) IAMD destroyers with capabilities to combat modern air warfare and BMD threats. When operational, these multi-mission surface combatants will provide global maritime security, engaging in air, undersea, surface, strike and ballistic missile defense as well as offering increased capabilities in anti-submarine warfare, command and control and anti-surface warfare.
One of the Defense Department's largest acquisition organizations, PEO Ships, is responsible for executing the development and procurement of all destroyers, amphibious ships, special mission and support ships, and special warfare craft.