Ingalls Begins Building US' Next Destroyer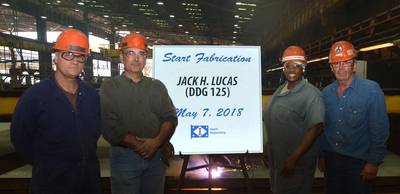 With the first 100 tons of steel cut, Huntington Ingalls Industries' (HII) Ingalls Shipbuilding division has officially started fabrication of the Arleigh Burke-class (DDG 51) destroyer Jack H. Lucas (DDG 125).

DDG 125, named to honor Capt. Jack H. Lucas, the youngest Marine and the youngest service member in World War II to receive the Medal of Honor, is the fifth of five Arleigh Burke-class destroyers HII was awarded in June 2013.

As the the first "Flight III" ship in the Arleigh Burke- class of destroyers, Jack H. Lucas will incorporate a new Advanced Missile Defense Radar (AMDR) that will replace the existing SPY-1 radar installed on the previous DDG 51 ships.

"The start of fabrication on a new destroyer is always exciting," said Ingalls' DDG 51 program manager George Nungesser. "DDG 125 is no exception. Our shipbuilders have delivered 30 of these ships to the U.S. Navy and back-to-back building has allowed them to gain experience and talent that is unmatched in our industry. They are eager to use their skillset to incorporate the Navy's Flight III modifications into DDG 125 and provide the Navy with yet another state-of-the-art ship."

Ingalls has delivered 30 Arleigh Burke-class destroyers to the U.S. Navy and is currently constructing Paul Ignatius (DDG 117), Delbert D. Black (DDG 119) Frank E. Petersen Jr. (DDG 121) and Lenah H. Sutcliffe Higbee (DDG 123).

HII describes Arleigh Burke-class destroyers as highly capable, multi-mission ships designed to conduct a variety of operations, from peacetime presence and crisis management to sea control and power projection. The guided missile destroyers contain myriad offensive and defensive weapons and are capable of simultaneously fighting air, surface and subsurface battles.