NNS Awarded Carrier Construction Preparation Contract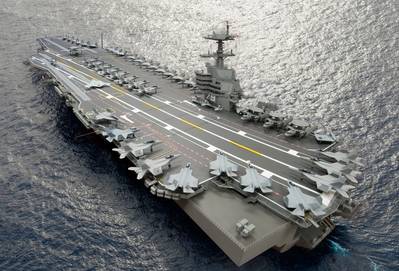 Huntington Ingalls Industries' Newport News Shipbuilding Division receives a $407 million contract extension to a previously awarded John F. Kennedy (CVN 79) contract.
The award of the contract extends the period of performance, adds additional efforts for engineering, planning and material procurement through Oct. 31, and authorizes additional manufacturing efforts.
NNS is performing work on CVN 79 under a construction preparation contract that allows for engineering, planning, long-lead time material procurement and initial manufacturing to begin before the full construction contract is awarded. The full contract is scheduled to be awarded later this year.

"This is a critical phase of construction on John F. Kennedy as key material procurement and production activities are taking place every day," said Mike Shawcross, NNS vice president, CVN 79 construction. "It is very important to get a good start on a ship of this magnitude and complexity, and this contract extension allows for those activities to continue and keep the ship on a path for success in meeting our customer's goals."

John F. Kennedy (CVN 79) will continue the Ford-class legacy of highly capable U.S. Navy nuclear-powered aircraft carrier ship platforms. Ford-class enhancements incorporated into the design include flight deck changes, improved weapons handling systems and a redesigned island, all resulting in increased aircraft sortie generation rates. It will also include new nuclear power plants, increased electrical power generation capacity, allowance for future technologies and reduced workload for the sailors, translating to a smaller crew size and reduced operating costs for the Navy.