Canada Patrol Boat Construction Project Pushes Forward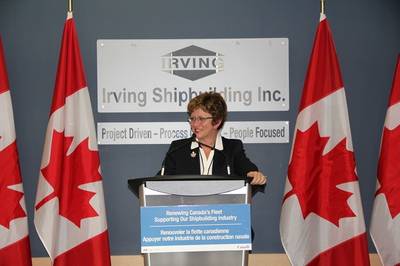 The Canadian Government has released funds with a potential value of $53.5 million to Irving Shipbuilding to pay for tasks connected with the construction of the Arctic/Offshore Patrol Ships (AOPS) under Canada's National Shipbuilding Procurement Strategy (NSPS).
• The definition contract is a task-based contract divided into seven work packages (or tasks) that will enable Irving Shipbuilding Inc. to have full designs and requirements established for the Arctic/Offshore Patrol Ships before building. Plans remain on track to cut steel and begin construction in 2015. 

• Authorization of these work packages follows the initial two tasks announced on March 7, 2013. The total potential value of the definition contract, including all seven potential tasks, is estimated at $288 million.

The Honourable Diane Finley, Minister of Public Works and Government Services Canada said: "Through the National Shipbuilding Procurement Strategy, the Harper Government is moving forward with our commitment to build ships in Canada in a timely and efficient manner and deliver the equipment that our men and women in uniform need to patrol our coasts and protect our sovereignty. By proceeding with these next two tasks under the definition contract, we will continue to refine and complete the ships' design and production details before cutting steel, and in turn reducing risk and respecting taxpayers' money."

The Honourable Rob Nicholson, Minister of National Defence added: "These two work packages represent another step further in the Government of Canada's commitment to deliver this key fleet to Canada's Navy. This will allow us to continue strengthening Canada's multi-role, combat-capable defence force, while maximizing job creation, supporting Canadian technological innovation, and bolstering economic growth across the country."