MSC Container Ship Hull Damage to be Repaired at Anchorage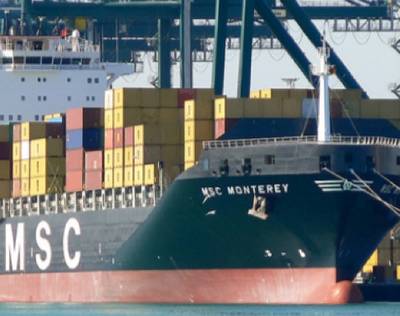 Specialists of the Canadian Ministry of Transportation, Germanischer Lloyd as well as representatives of the shipyard, insurance, charterer and owners REEDEREI NSB have decided after inspecting the damaged 'MSC Monterey' (anchored south of Newfoundland) that permanent repairs can be carried out on site.

Owners, REEDEREI NSB inform that after inspection of the crack on the main deck and the outer hull and comprehensive ultrasonic testings all experts consider the cause of the crack to be a defective welding seam. Classification society Germanischer Lloyd (GL) has decided in cooperation with all involved parties to have the final repair of the damage carried out on-site instead of a provisional repair.

Until the completion of repairs the vessel is anchored in St. Mary's Bay at a sheltered location in the south of Newfoundland. The crack on the main deck and the outer hull is unchanged, measuring 1.5 meters on the main deck and extending for approximately 30 centimeters into the outer hull.

A welding procedure has been defined by GL, which has to be followed exactly, but adverse weather conditions off the coast of Newfoundland with current temperatures well below 0 C°make repair procedures somewhat difficult. Comprehensive preparations have to be made in order to preheat the steel and the ambient temperature as well als to adhere to the cooling rates exactly.

Repairs will be carried out by a Canadian company with experience in this field and will probably take 7 days. A representative of Germanischer Lloyd will supervise works on-site, and it is planned that after completion of works MSC Monterey will continue her voyage as part of her charter to MSC as soon as possible thereafter.

Background
The Liberian flagged container vessel MSC Monterey was on her way from Antwerp to Boston when on Friday 27th of December, 2013, a crack of approximately 1.5 m in the main deck near the superstructure was discovered by the crew. At that time, the vessel was situated southeast of the coast of Newfoundland. After the crack had extended by approximately 30 cm into the outer hull and further measures had been coordinated with the Canadian Coast Guard and Transport Canada, the vessel was anchored in the bay of Cape Pine.

Four passengers from the United States and Switzerland which were travelling on the container ship were taken earlier to shore by helicopter at their own request.