MSC Oscar is the World's Largest Containership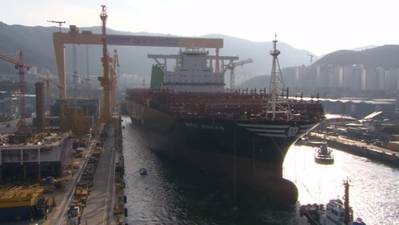 MSC Oscar, the newest cargo vessel built for Mediterranean Shipping Company (MSC), will launch in January 2015, and at 19,224 teu, the containership will take the record for world's largest.
MSC Oscar possesses a nominal capacity of 19,224 teu, officially making the ship the largest globally, edging China Shipping Container Lines' 19,100 teu CSCL Globe which just recently took the title
from Maersk
's 18,270 teu Triple-E class.
Measuring is 395.4 meters long and 59 meters wide with a 16-meter draft, the 197,362 dwt MSC Oscar was built by Daewoo Shipbuilding & Marine Engineering and is classed by DNV GL.
The Panama-registered containership will be inaugurated during the first week of January 2015 and will join the Albatross service later that month.
A similar vessel, MSC Oliver, is due for launch in April 2015.