WMI, ESG Sign Contract to Complete Dredger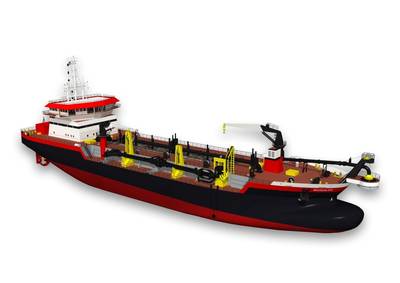 Weeks Marine, Inc. (WMI) and Eastern Shipbuilding Group, Inc. (ESG) signed a contract to complete the construction of its Trailing Suction Hopper Dredger, the MAGDALEN.
This 356' Twin Screw Trailing Suction Hopper Dredger will be constructed at Eastern's Allanton Panama City, Florida facility. Weeks Marine is another Eastern repeat client. This new construction Dredger project continues our commitment to the US Jones Act maritime industry and its long history of being a successful diversified US Shipbuilder. Looking forward, Eastern will continue to grow its facilities along with its strong workforce of men and women who are always eager for the next new construction, conversion or repair challenge.

Named the WMI 475 MAGDALEN (ESG Hull 256), the design and detailed engineering and the dredging equipment are provided by Dredge Technology Corporation (DTC), a member of the IHC Merwede International Group. This Trailing Suction Hopper Dredger will be delivered in 2017.


The Trailing Suction Hopper Dredger features the following characteristics:
WMI 475 MAGDALEN:
Dimensions (Overall): 356' x 79'-6"'x 27'-3"
Horsepower: (2) 5682 BHP
Main Engines: (2) GE 16V250
Main Shaft Generators: (2) 3400kW
Auxiliary Generator: (1) GE 6L250 (1423kW)
Emergency Generator: (1) Caterpillar C18 (600kW)
Classification: Lloyd's Register, 100A1 Hopper Dredger, LMC, UMS
Flag & Regulatory: USA, USCG
Hopper Capacity: 8,550 yd³
LD Dredge Pump Power: (2) @ 1600kW
HD Dredge Pump Power: (1) @ 1600kW
Jet Pump Power: (2) @ 445kW
Bow Thruster: (1) 730kW VFD Fixed Pitch Tunnel Unit