Topaz Wins Sharjah Ferry Contract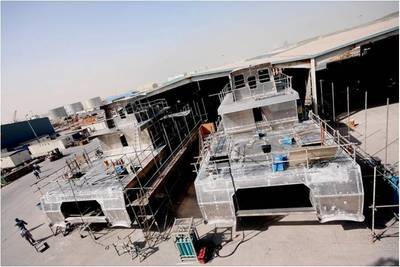 Renaissance subsidiary, Topaz Marine Engineering, win contract to build a catamaran ferry for the Sharjah Government
The UAE-based full service ship building, ship repair and engineering services company, Topaz Marine Engineering confirms it has been commissioned by the Government of Sharjah – Al Diwan Al Amiri to build and deliver one Catamaran passenger ferry boa.
With a focus on passenger luxury and efficiency, the catamaran will be designed to accommodate 40 people, with passengers all seated on the main deck. It will be used to transport people between mainland Sharjah and the Abu Musa Island, situated 70 kilometres offshore.
The ferry will be built at Topaz's Nicocraft Shipyard in Abu Dhabi and is scheduled for delivery in January 2013.
Topaz Marine Engineering report an excellent start to the year. It has recently delivered two 18 metre Catamaran ferry boats to a client in the UK and completed the delivery of two wind farm support vessels (WFSV) to ASP Work Boats Ltd. Topaz is also completing the delivery of two Anchor Handling Supply (AHTS) vessels, Topaz Dignity and Topaz Triumph on behalf of BP, which are due to be deployed in the Caspian Sea on long-term contracts. Furthermore, Topaz was awarded a contract from GAC Group to provide completion services for two crew/cargo vessels.