Cruise Ship Viking Orion Delivered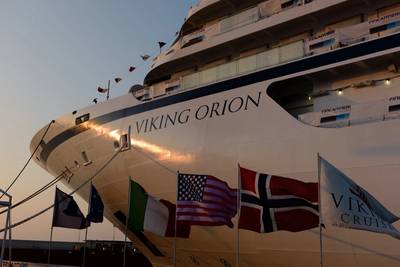 Italian shipbuilder Fincantieri has delivered the fifth cruise ship in a series of oceangoing newbuilds for ship owner Viking Cruises. The new vessel, Viking Orion, was delivered today from the builder's shipyard in Ancona.
Viking Orion, as its four preceding sister ships, fits into the small cruise ship segment, with a gross tonnage of about 47,800 tons. It has 465 cabins with accommodation for 930 passengers.
Viking's ocean ships are all equipped high-efficiency engines, hydro-dynamically optimized streamlined hull and bow for maximum fuel efficiency and equipment that minimizes exhaust pollution and meets the strictest environmental regulations, the shipbuilder said.
Inside, Viking Orion features all-veranda staterooms, spacious suites with sweeping views, two pools (one of which is an infinity pool off the stern) and a spa with a sauna and a snow grotto.
Viking Orion's planned itineraries include journeys in the Middle East, Australia, New Zealand, Asia and Alaska.
Viking Cruises, parent company of Viking River Cruises and Viking Ocean Cruises, has a river fleet that includes more than five dozen vessels. With the new Viking Orion, its ocean fleet has grown to five vessels.
The first of Viking's ocean series, Viking Star, was built at Fincantieri's shipyard in Marghera and delivered in 2015, while the other units, Viking Sea (2016), Viking Sky (2017) and Viking Sun (2017), were built at the Ancona yard. Next to follow Viking Orion will be the series sixth vessel, Viking Jupiter, which was floated out in May and is scheduled for delivery in 2019.
Viking's ocean fleet could reach 16 ships by 2027, with another 10 ships from Fincantieri's Italian yards due for delivery from 2019.
Viking Orion's sister ship Viking Sky was delivered in 2017 (Photo: Fincantieri)