Deal inked to Develop Digital Ships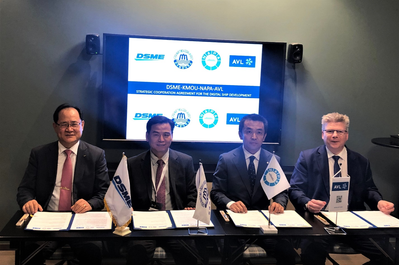 DSME, Korea Maritime and Ocean University, NAPA and AVL announced a strategic cooperation agreement to develop digital ships and related strategic solutions.
The agreement combines vast experience in naval architecture, shipbuilding, engines, big data and software development, and will cover all aspects of creating comprehensive digital twins: from the acquisition and processing of quality engine room data, ship performance and meteorological data to the training, simulation and human machine interface that will be necessary to turn insights from engine data into practical efficiencies.
"The development of digital twin ship and engine is one of the most exciting outcomes of the recent surge in maritime digitalization and development of the Internet of Things," said Odin Kwon, CTO of DSME. "By creating a virtual, real-time copy of engine equipment, we can better monitor, analyze, and predict performance, leading to safer and more efficient operations. Here, the best experts in each field gathered in order to develop digital twin ship. so we are confident that we can create and service superior product that exceed our customers' expectations."
"Digital twins bring together a range of different fields of expertise, requiring hardware, software and operations to work together. This is why collaboration is essential if this technology is to mature. This partnership represents shipping's best minds in shipbuilding, engines, ship operations, and software. We're excited to work together to develop digital twin technology and a platform that will make future generations of ships safer and smarter."
KMOU faculty members have already started developing a platform in which AR/VR and digital twin technology are embedded. KMOU will focus on providing knowledge based platform in the fields of simulations and communications related to digital ships extending to AR/VR. KMOU has strong competiveness in developing digital twins, because KMOU has its own training ships where world leading expert and faculty members are on board, and by conducting collaborative practical research works and testing with them for practical validations on the developed prototype digital twin ship."
Each partner brings a different angle to the collaboration, co-ordinated by DSME. NAPA, as the leading expert in maritime software and big data, will develop digital twin ship models with digitalized components and a real-time simulation platform to integrate between engine models and ship models.
Meanwhile, as the world's largest independent company for the development, simulation and testing technology of powertrains and propulsions systems, AVL will develop the simulation tools and methodologies that the partnership projects will require.
KMOU, a world-leading maritime institute in the field of maritime studies, transport science and engineering, will contribute by providing the existing infrastructure as a basis for further development and optimization.