Fast Patrol Boat Delivered to Norwegian Navy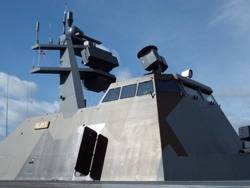 Lead contractor, DCNS, delivers fourth Skjold fast patrol boat to the Norwegian Navy
The Skjold shipbuilding program is carried through by a consortium of three contractors with DCNS as the combat system design authority and co-supplier. DCNS works with Norwegian contractors Umoe Mandal and Kongsberg Defence & Aerospace, through the Skjold Prime Consortium.
Skjold FPB's are designed specifically for maritime security and safety missions in Norway's littoral waters. The combat system is tailored to demanding environments and reduced crewing. The communications and sensor suites are fully compatible with active participation in international and NATO-led operations. The vessels communication capabilities will be further enhanced as they will be upgraded with a state-of-the-art satellite communications system. The contract for this new capability has just been awarded by NDLO (Norwegian Defence Logistics Organisation) to the Skjold Prime Consortium.
First-of-class P961-Storm was handed over on 9 September 2010, second-of-class P962-Skudd on 28 October 2010 and third-of-class P963-Steil on 30 June 2011.
With a length of around 50 meters, Skjold-class FPBs are heavily armed for their size. The combat system features eight anti-ship missiles and a 76-mm gun that can engage several targets at once at ranges exceeding 12 kilometers.