New Coast Guard Response Boat Delivered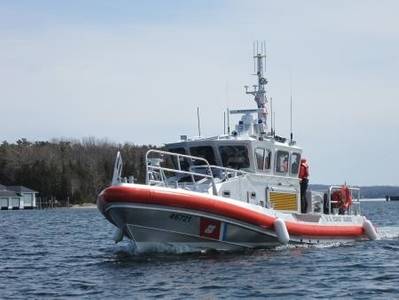 Coast Guard Station Charlevoix, Michigan, accept delivery of the station's new 45-foot Response Boat-Medium, built by Marinette Marine, of Manitowoc, Wis.
The RB-M can respond faster than previous boats of similar size with a top speed in excess of 40 knots and has advanced search capability with an installed forward-looking infrared search technology. Additionally, with twin jet propulsion, the vessel is able to respond in shallower water.

The boat has a deep-V, double-chine hull, which provides a balance of performance and stability. The vessel is also self-righting in heavy seas up to 12 ft height and can carry up to 24 persons.

The RB-M augments Station Charlevoix's current craft complement of one 41-foot Utility Boat and one 25-foot Response Boat Small. It is slated to take the place of the UTB, which was built in 1976 at the Coast Guard Yard in Baltimore, MD, and was used at several Coast Guard units before arriving at Station Charlevoix in 2001.