Bumi Armada Awaits Triple Delivery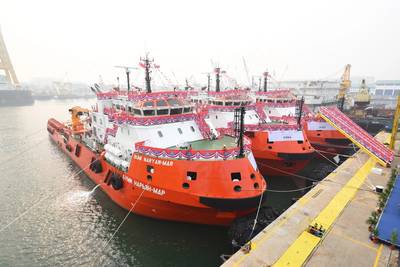 Specialized shipbuilder Keppel Singmarine Pte Ltd, a wholly-owned subsidiary of Keppel Offshore & Marine Ltd (Keppel O&M), says it is on track to deliver three ice-class vessels to Bumi Armada Offshore Holdings Ltd, a subsidiary of Bumi Armada Berhad in September.

The new vessels, two supply vessels and one multipurpose duty-rescue vessel, were named Bumi Uray, Bumi Pokachi & Bumi Naryan-Mar, respectively, at a ceremony at Keppel Singmarine Thursday.

Upon delivery, the vessels will support offshore platforms at the Filanovsky oil field in the northern part of the Caspian Sea, off the coast of Russia, providing year-round services such as the delivery of cargos, salvage, search and rescue functions, firefighting operations and towing and tanker mooring operations.

The ice-class supply vessels and the multipurpose duty rescue vessel are built to the MTD 8060-TS and MTD 8060-RV designs, respectively, developed by Keppel O&M's ship design and development arm, Marine Technology Development.