Nixon Named Director of R.I. Sea Grant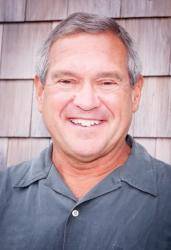 Earlier this month, Dennis Nixon was named director of the Rhode Island Sea Grant, one of 32 programs that make up the National Sea Grant College Program, which is administered by the National Oceanic and Atmospheric Administration.

Nixon spends much of his life near the ocean. As a longtime Jamestown resident, Nixon is never more than minutes away from Narragansett Bay. As associate dean of the University of Rhode Island's Graduate School of Oceanography, he is just as close to the waves when he's in his office. Nixon has been teaching at the University of Rhode Island for 37 years. For the last four, he served as associate dean for research and administration.

In 1965, U.S. Sen. Claiborne Pell introduced legislation to establish sea-grant colleges on campuses across the country. President Lyndon Johnson signed the bill in 1966. Two years after work began, the first four grants were awarded.

In 1970, the sea-grant program became part of the NOAA, the federal agency in charge of the conditions of the oceans and atmosphere. The following year the first four universities achieved sea-grant status – URI was one of them. The others were Oregon State, Texas A&M and the University of Washington.

Nixon grew up in the greater Detroit area where he learned to sail on the Great Lakes. While he was at Xavier University, he majored in American history and was captain of the school's sailing team. From there Nixon went to study law at the University of Cincinnati.

It was there when a near-mystical experience changed the course of his life.

"I was in my first year of law school and I hadn't found the area of law that really grabbed me," he said. "Then I was in the basement of the law library doing a research project and a shaft of light came through the window and it shone down on the Journal of Maritime Law and Commerce. The rest is history. That's what I've been doing ever since."

Nixon said most of his classmates following graduation went on to good paying jobs, but he wanted to learn more about his "client": the ocean.

In 1975, he came to the University of Rhode Island to get a master's degree in marine affairs. He thought he would be there for one year. During the first year he worked on the development of the state's coastal management program, a predecessor to the Coastal Resources Management Council.

After getting his graduate degree, Nixon was heading to Washington to take a policy job. Just then two people at URI resigned. He was asked to fill in for a year. It was while he was teaching his first class that Nixon realized how much he loved it. After filling in for five years, a tenure-track line for a faculty position opened up. Nixon applied and got the job.

Since then Nixon has moved through the ranks at the university, teaching coastal and marine law to both graduate and undergraduate students. He was a finalist to direct the R.I. Sea Grant 13 years ago, but didn't get the job. He served as an associate dean for the life sciences college for eight years, and at the same time continued to teach.

Nixon has written over 50 articles as well as a casebook, "Marine and Coastal Law," which was first published in 1994. He co-founded the joint-degree program in marine affairs and law at Roger Williams University. Nixon is also the legal advisor and risk manager for the University National Oceanographic Laboratory System, providing advice to the entire U.S. academic research fleet for the past 26 years.

"We coordinate all of the 25 ships that are owned by the government, but are managed by universities on behalf of the National Science Foundation," he said. "I am available 24/7 if one of the ships has a legal problem. I place the insurance on all the ships and try to make sure that the legal system doesn't get in the way of doing good science."

When the R.I. Sea Grant position became open, an internal search for a new director began. Nixon applied for a second time, this instance with a happier ending.

He began work in his new office last week. Nixon said when he applied for the new job he made it clear he wanted to continue teaching. He will now teach one class per semester in addition to his new role as director.

According to Nixon, the R.I. Sea Grant has an annual budget of $3 million that is used to fund research in Rhode Island. This year the focus will be on a shellfish management plan being developed in concert with CRMC and the Department of Environmental Management.

According to Bruce Corliss, dean of the Graduate School of Oceanography, Nixon was the perfect choice and he looks forward to working with him.

"[He] has an intimate knowledge of Rhode Island's coast and surrounding waters, and is uniquely qualified to bring together the academic and public communities to help solve emerging coastal problems in Rhode Island," said Corliss.

Even U.S. Sen. Sheldon Whitehouse was happy to hear about Nixon's appointment. "The program will benefit greatly from his leadership and expertise," he said. "I can't think of a better person to continue Rhode Island Sea Grant's excellent work to address the many issues facing our coasts today."

Nixon succeeded Barry Costa- Pierce, who headed the program for the past 12 years.

Source: The Jamestown Press: jamestownpress.com/news/2013-07-18/News/Jamestown_resident_Dennis_Nixon_named_director_of_.html