Cruise Liner Takes 103 Off Disabled Alaskan Vessel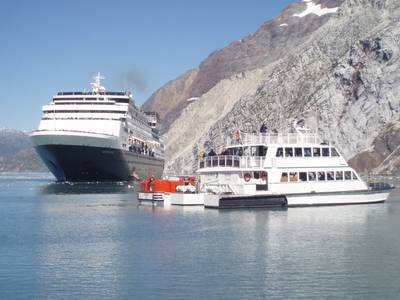 While leaving from Margerie Glacier to depart Glacier Bay, Alaska, Holland America Line's 'Statendam' assisted 103 persons on a disabled sightseeing boat, having responded to a call to assist the 79-foot sightseeing vessel 'Baranof Wind', which was experiencing mechanical troubles and had lost power in the ice near John Hopkins Glacier.
The ship lowered two tenders, which collected 102 tourists and one Glacier Bay National Park ranger and returned to Statendam. A Glacier Bay National Park ranger aboard Statendam assisted in coordinating the assistance from the ship's bridge.

The sightseers were brought to Bartlett Cove, where the Baranof Wind's excursion originated and the Statendam then sailed for Seward, Alaska, where it is expected to arrive on schedule Sunday, Aug. 4.

"Statendam's Captain Jochem Bakker and his crew responded quickly and professionally to assist the passengers of Baranof Wind," said Richard Meadows, executive vice president marketing, sales and guest programs for Holland America Line. "We are proud of our officers and crew."