Silver Discoverer Embarks on Inaugural Voyage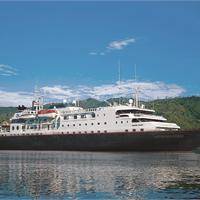 Silver Discoverer, Silversea's latest addition to its award-winning expedition fleet, welcomes her first guests today, exactly 20 years to the day since the company launched its first ultra-luxury cruise ship.

Setting sail at 4:30 p.m. on her inaugural voyage from the port city of Broome, in northern Western Australia, the 120-guest, all-suite expedition ship will spend 10 days exploring the Kimberley Coast's jaw-dropping landscapes and ancient human history. A vast, rugged region, Kimberley is home to towering waterfalls, wildlife-rich wetlands, and fascinating Aboriginal rock art painted over 20,000 years ago. This remarkable maiden journey concludes in Darwin, following a visit to Indonesia's Leti Island.

"We're delighted that Silver Discoverer is embarking on her inaugural voyage on the very day that marks Silversea's 20th anniversary," said Kristian Anderson, Silversea's senior vice president and general manager for North America. "Over the past 20 years, our company has developed a reputation for exploring exotic locales -- the kinds of places that most travelers can only dream about. It seems only fitting that this latest addition to our fleet will be sailing to what are arguably some of the world's most remote, most pristine, and least explored regions."

Silver Discoverer's inaugural season will encompass many of the Pacific Ocean's most isolated corners. In addition to several Kimberley Coast voyages, there will be visits to wild and rarely traveled lands in Southeast Asia, Micronesia, Melanesia, East Asia, the Russian Far East, New Zealand, and the Sub-Antarctic Islands. And in 2015, Polynesia will join the schedule, plus a host of other exciting new Pacific destinations, such as the remote Phoenix Islands Protected Area in Kiribati, which includes Nikumaroro, the island some believe to be the final resting place of famed aviator Amelia Earhart.