Vital North Sea/Baltic Sea Link Disruption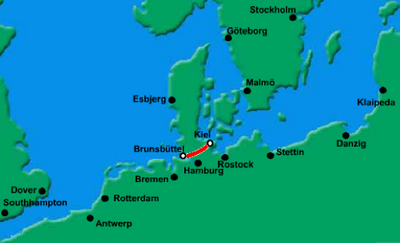 The local labour union VERDI has given official notice of a strike at Kiel-Canal Locks (Brunsbuettel) 7, August through to Sunday 11, August, 2013. Maritime traffic will experience heavy delays/restrictions during this period.

The Kiel Canal, one of the busiest waterways in the world, is a 98-kilometre (61 mi) long canal linking the North Sea at Brunsbüttel to the Baltic Sea at Kiel-Holtenau.

An average of 250 nautical miles (460 km) is saved by using the Kiel Canal instead of going around the Jutland Peninsula. This not only saves time but also avoids potentially dangerous storm-prone seas.
The same or similar action is expected at the Kiel-Holtenau-Locks next week according to GAC
Sources: GAC, Wikipedia