USS Lake Erie Assists Distressed Mariners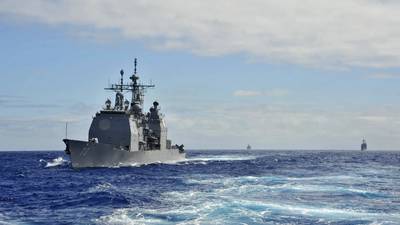 Ticonderoga-class guided-missile cruiser USS Lake Erie (CG 70) provided assistance to 25 mariners in the early hours of March 19, after receiving a distress call from a civilian ship taking on water.
Lake Erie deployed a rescue and assistance team aboard its rigid hull inflatable boat (RHIB), and after embarking the distressed vessel, the eight-member team began dewatering the ship and searching for the source of the flooding.
"After making sure everyone was alright, we noticed water was coming in at about 1,200 gallons a minute," said Lt. Ruben Maldonado, Lake Erie's damage control assistant, of Junction City,
Kansas
. "We estimated 24 inches of water to be flooding the deck."
The team found two cracks in the hull of the wooden vessel and used wooden shoring to reduce the flow of water.
"We wanted to ensure the seaworthiness of the vessel," said Maldonado. "Over time, with wooden ships, something like this is bound to happen."
The
Lake Erie team
turned over the operation to the U.S. Coast Guard once the flooding was under control and the water level dropped.
"We train every day for these types of situations," said Damage Controlman 2nd Class Mark C. Grizer of Pataskala, Ohio. "Every situation is unique, so we have to have a creative mind to fix any problems we find. This was a great opportunity to help our fellow Americans in need."
Lake Erie is currently underway conducting Composite Training Unit Exercise (COMPTUEX) with the
Nimitz Carrier Strike Group
in preparation for an upcoming deployment. COMPTUEX tests the mission readiness of the strike group's assets through simulated real-world scenarios and their ability to perform as an integrated unit.