Diversification Keeps Gulf Vessel Builders Afloat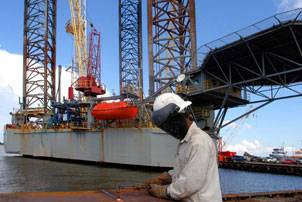 By Susan Buchanan, in the January edition of MarineNews

Companies building vessels on the U.S. Gulf are servicing a flock of domestic and overseas clients while their offshore oil and gas customers wait for Washington to issue more drilling permits and safety rules. Some of the region's builders are busy making repairs. After a federal ban on deepwater drilling ended in October — three months after BP's well was capped — the Gulf remains quiet, but industry members expect business to improve eventually.
Gulf vessel builders have seemingly ignored an old sailors' warning to "never plant you right and left feet in two different boats." Instead, they've been able to diversify and cater to an array of customers. At Bollinger Shipyards, Inc. in Lockport, La., president and CEO Boysie Bollinger, said "we continue to build patrol boats for the U.S. Coast Guard, along with oilfield supply vessels for Bee Mar," a Houston-based, marine transportation company. "We're also building boats for Yemen, tankers for the City of New York, barges that will become a casino in Baton Rouge and tugs for a West Coast company."
Bollinger continued, saying "a large part of our business is dry-docking for repairs and refurbishing vessels and drill rigs." The company has planned and budgeted for slower-than-usual repairs, refurbishing, and vessel operation activities in 2011, however, as its Gulf customers wait for drilling permits.
Bollinger Shipyards is a leading U.S. builder of vessels and provides other services to the offshore energy, commercial and government marine markets. As the largest vessel repair and conversion firm in the Gulf, Bollinger Shipyards operates 32 dry docks from Louisiana to Texas.
Meanwhile in Des Allemands, La., Paul Candies, president and chief operating officer at Otto Candies, said "we're building three, large platform-supply vessels for the offshore oil industry and two diving support vessels for Brazil at our shipyards in Houma. We're also constructing an inspection, maintenance and repair or IMR vessel at the Dakota Creek Shipyard in Washington State."
Candies continued "all our vessels in current use are less than five years old so we haven't been doing any refurbishing." Candies Shipbuilding in Houma, La. has built nine, new offshore-service vessels in the last five years.
Candies said "even though the Gulf drilling moratorium was lifted, few permits have been issued, and we have three big marine vessels that have been tied to the dock for some time." The company is paying staff to man those vessels, along with insurance and amortization. "We don't want to lay people off," he said. "At the same time, however, we're unable to train staff while boats sit there without a go-forward schedule."
He added that "the situation of offshore drillers waiting for permits in the Gulf will become critical in the region if it lasts much longer." Otto Candies maintains a fleet of more than 100 vessels, serving the offshore oil and gas industry worldwide. In addition to Louisiana, the company has offices in Mexico and Brazil.

Drilling-Permit Approvals Lag Recent Years
Interior Secretary Ken Salazar visited Houma in late November and met with oil and gas companies that work in shallow waters. He was encouraged that operators were moving quickly to comply with new regulations, but industry members were disappointed that Salazar didn't announce a more accelerated path for processing permits.
Since early June, the Bureau of Ocean Energy Management, known as BOEM and alternatively as BOEMRE, has approved 21 new, shallow-water applications for permits to drill, with several shallow applications pending. Fewer shallow-water permits were approved per month in the second half of 2010 than in recent years. And because of the cost and complications of complying with new regulations, the number of applications for shallow permits has slowed. Meanwhile, industry members question the reasons for increased oversight of the shallow sector where, they said, no major, dangerous incidents have occurred in recent decades.
As for deepwater permits, BOEM has received several applications for new wells since the agency's drilling ban was lifted in October and is reviewing them and, in some cases, asking for more information. Since BP's oil spill, three deepwater rigs moved from the Gulf of Mexico to Egypt, Nigeria and the Congo, respectively, with two of them there temporarily.

Offshore & Inland Boats Refurbished, Equipment Repaired
In Morgan City, Gary Lipely, director of marketing and sales at Conrad Industries, said "we successfully completed some recent projects for the Army Corps of Engineers, including some crane barges, but it looks as if 2011 might be a little slower because of a number of uncertainties." He too cited oil and gas customers waiting for drilling permits and more federal regulations. And, he said, "the weak economy is another factor affecting us. We've been fortunate, though, that we haven't had to lay off anyone."
Lipely said the company's six dry docks in Amelia, La. are busy refurbishing boats and barges for offshore oil and gas and inland use. "That side of our business has remained steady. We're presently working on some dredging equipment that needs to be repaired."
Conrad Industries builds and repairs deck, tank and crane barges, lift boats, industrial vessels and ferries at three shipyards in Morgan City and Amelia, La., and one in Orange, Texas.

Gulf Vessel Traffic Slowed in Late 2010
At Louisiana's Port Fourchon, the leading oil and gas terminal in the U.S. Gulf, vessel traffic declined in the last quarter of the year after having increased in the spring and summer because of spill-response efforts at BP's leaking well.
Chett Chiasson, executive director of Port Fourchon, said "we now have vessels stacked or tied up, with no jobs, as companies wait for drilling permits. If more permits aren't issued soon, stacked vessels could join other equipment that's moving overseas."
Port Fourchon, south of the Intracoastal Waterway in Lafourche Parish, services Gulf oil and gas exploration, drilling and production. "In normal times, this port caters to 90% of the deepwater rigs in the Gulf and also services shallow-water rigs," Chiasson said. "About 99% of our activity is oil and gas, and fishing accounts for the rest." The port is a host for the Louisiana Offshore Oil Port or LOOP — an entry point for domestic offshore and foreign oil for distribution to U.S. refiners.

Offshore Clients Grapple with Safety Rules
Vessel builders say they're affected as oil companies contend with new safety rules. This fall, BOEM issued offshore regulations, including a safety rule governing all stages of drilling new wells. Rules regarding blowout preventers were tightened. Operators are now required to have deepwater-well construction and flow processes independently reviewed. And new workplace rules require that operators have a so-called Safety and Environmental Management System in place to reduce errors that cause accidents. Many safety practices that were voluntary before BP's spill are now mandated.
Since meeting new rules can be costly, some smaller drilling companies will struggle to pay for compliance. And still more rules will be unveiled in 2011 as federal panels investigating the BP accident make recommendations.
The biggest oil companies can delve into their pockets to cover new safety costs, however, and they plan to keep tapping into huge oil reserves in waters of more than 1,000 feet deep. In July, four companies active in the deep Gulf — Exxon Mobil, Chevron, Shell and Conoco-Phillips — decided to spend $1 billion to build a containment system in case of future spills. That system won't be in place for awhile, however.

Chevron Plans to Invest Heavily in the Gulf
Chevron Corp. and foreign partners announced plans in December to invest $4 billion to develop the Big Foot field, discovered earlier and located 225 miles south of New Orleans in depths of 5,200 feet. The facility is slated to be on stream in 2014. And in October, Chevron said it would spend $7.5 billion to develop the Jack and St. Malo fields, located near each other about 280 miles southwest of New Orleans, at 7,000 feet deep.

Strong Oil Prices a Bright Spot
Gulf vessel builders weathered a downturn in the economy in recent years. "Oil prices did not weaken the way they normally do during a global recession," so that was a plus for drilling clients who operate internationally, Bollinger said. Crude oil prices dropped in late 2008 but rebounded and were hovering below $90 a barrel in late 2010. The U.S. recession officially ended in mid-2009 though it may not feel like it. The global recession wound down in late 2009, indicators show.
Bollinger said "we did not see any meaningful increase in the availability of quality workers in this region during the recession. We normally expect to see more, quality workers available" during an economic slide. Even with the oil spill and limited offshore drilling, the jobless rate in late 2010 in both Louisiana and Texas was 8.2% and below the national average.